Nicola Spirig wins the Mogán Challenge
Judith Corachán was fifth and Sara Pérez sixth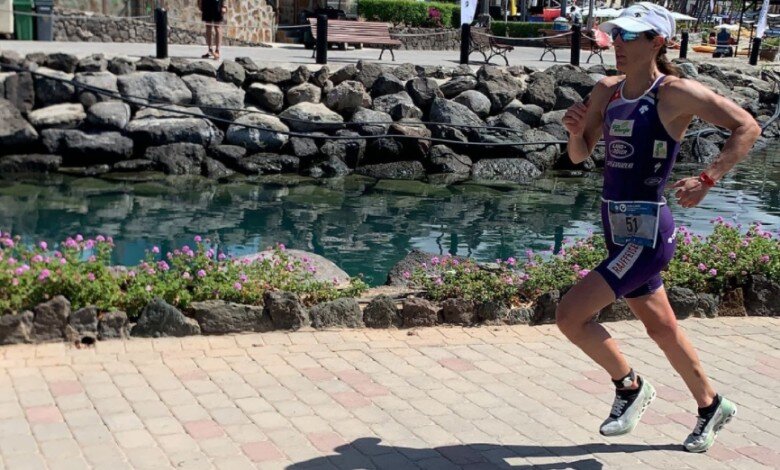 At the same time that the Men's test of the Challenge Mogán where the German Jan Frodeno has achieved victory the women's has been contested with a good lineup of professionals.
The test that began at 8 o'clock with the 1.900 meters of swimming where the Spanish Sara Pérez was the fastest followed by Nicola Spirig and Sarissa de Vries at 10 seconds.
In the first part of the 90-kilometer cycling segment, a group was in the lead with Spirig, Pérez, de Vries and Lisa Norden arriving at T2 the trio formed by Spirig, de Vries and Lisa Norden a few seconds away.
In the race on foot Nicola had no rival and with a strong rhythm from the beginning she got a comfortable advantage passing at kilometer 4 of the race already with 2:15 on her pursuers.
Finally, Nicola Spirig has achieved victory with a time of 4:07:55 followed byr Sarissa de Vries (04: 11: 17) and for Lisa Norden (04: 11: 43) occupying the third final position.
A GREAT VICTORY FOR @Nicolaspirig, WINNING @challengemgc
4:07:55 #wearetriathlon #challengefamily #allabouttheathlete #ChallengeGranCanaria pic.twitter.com/rNhpb5e8WE

- Challenge Family (@Challenge_Famil) April 24, 2021
As for the Spanish Judith Corachán has been fourth and Sara Perez farm
Classification
| | | | |
| --- | --- | --- | --- |
| Post | Dorsal | Athlete | Time |
| 1 | 51 | Nicola SPIRIG HUG | 4:05:52 |
| 2 | 66 | Sarissa FROM VRIES | 4:11:17 |
| 3 | 52 | Lisa Norden | 4:11:43 |
| 4 | 59 | Katrina MATTHEWS | 4:14:06 |
| 5 | 57 | Judith CORACHAN VAQUERA | 4:20:22 |
| 6 | 65 | Sarah PEREZ SALA | 4:23:52 |
| 7 | 53 | Anna Lena BEST POHL | 4:24:33 |
| 8 | 69 | Alex TONDEUR | 4:25:42 |
| 9 | 61 | Maja STAGE NIELSEN | 4:25:58 |
| 10 | 55 | Diede Diederiks | 4:27:28 |
More information shortly