Noya, champion of the Premium European Cup of Triathlon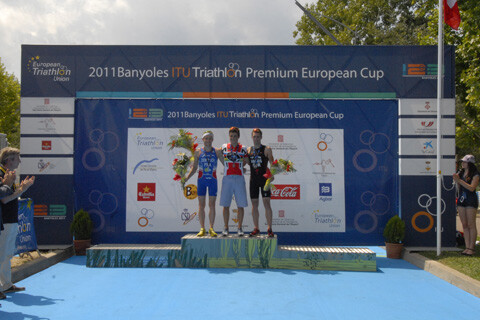 Javier Gómez Noya, current leader of the Triathlon World Ranking, has shown himself today as a "thoroughbred" triathlete, achieving the first position on the podium in the Premium Triathlon European Cup, after an excellent race on foot
The Frenchman Etienne Diemunsch tried to catch up to Gómez Noya during practically the entire last segment, but it was not possible since Noya was making the difference meter by meter and despite the fact that Diemunsch is an excellent runner, he was unable to catch up with him, thus settling for the second position. Aaron Harris entered the finish line in third place.
Jose Miguel Pérez, fought until the last stride, however he had to settle for fourth place by a few tenths of a second. In the Top 10 we could also count on the presence of Mario Mola, which entered in 8 position.
The swimming segment was led in its entirety by the Slovak Richard Varga and in second position Javier Gómez Noya, a few meters behind them a second group. They remained in the same positions during the cycling segment, but were finally caught up with the second group led by the Spanish Mario Mola. Once the race began on foot, already in the first lap the Spanish and current leader of the world ranking, Gómez Noya, as if the kilometers did not take their toll, made the difference and won the first position on the podium "both laps The fact that we have done solitary in the cycling segment and the heat have slowed me down a bit, in any case, I have felt good in the race on foot. I am happy to compete here and achieve this position, however my goal is in London, where I will find the toughest opponents". In addition, the Galician triathlete had words of thanks to the city and the organizers of this event.
The Mayor of the town, during the event, also had a few words of gratitude for all the national and international triathletes who have come to Banyoles to participate in this Premium European Cup "It is a spectacle to be able to see a competition of this caliber, we are proud to be able to host it. Everything is going perfectly, we would like to be able to host more international events in our town. It is also a pride to be able to count here with the presence of the president of the Spanish Federation and the President of the European Triathlon Federation"
Abuin Ares, Uxio, 13, Anton Ruanova, 15, Fernando Alarza, 18, Jariel Naranjo, 21, Vicente Hernández, 23, Francisco Fernández-Cortés, 26, Ricardo Hernández Marrero, 29, Pedro Miguel Reig, 35, Albert Parreno, 37, Albert Moreno, 39, Daniel Rodríguez, 47. Miguel Ángel Fidalgo and the local triathlete Pau Castellvell withdrew from the race.
TOP 10 OF THE TEST
1 Gomez, Javier ESP 1:45:50
2 Diemunsch, Etienne FRA 1:46:29
3 Harris, Aaron GBR 1:47:07
4 Perez, Jose Miguel ESP 1:47:08
5 Bishop, Thomas GBR 1:47:11
6 Leckie, Todd GBR 1:47:38
7 Kerr, Peter 1:47:41
8 Croes, Peter 1:47:42
9 Cool, Mario ESP 1:47:50
10 Naranjo Vichot, Jorge 1:47:56
REST OF SPANISH:
13 Abuin Ares, Uxio) 1:48:00
15 Ruanova, Anton ESP 1:48:02
18 Alarza, Fernando ESP 1:48:11
21 Naranjo, Jariel ESP 1:48:55
23 Hernandez, Vicente ESP 1:49:31
26 Fernandez, Francisco ESP 1:49:43
29 Hernandez, Ricardo ESP 1:50:17
35 Reig, Pedro Miguel ESP 1:50:53
37 Parreno, Albert ESP 1:51:06
39 Moreno Molins, Albert ESP 1:51:30
47 Rodriguez, Daniel ESP 1:55:50
DNF 10 Fidalgo, Miguel Angel ESP
DNS 62 CAstellvell, Pau ESP
All results: http://www.triathlon.org/results/results/2011_banolas_itu_triathlon_european_cup/6039/