Noya "Participating in your home is an indescribable sensation"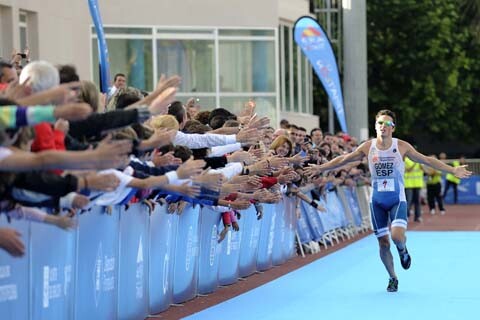 Inescapable appointment in the calendar, next June 24, 25 and 26 Pontevedra will host the European Triathlon.
Pontevedra is a city committed to Sport and this weekend, after celebrating the European Cup three consecutive years, it takes the leap to host the first European Championship in its city.
In the test we will be able to count on the presence of Javier Gómez Noya, current Triathlon world champion, and a true prophet of this sport and of his city. "Participating in a test as important as a European Championship and doing it at home is an indescribable feeling. And even more so knowing the atmosphere that was experienced here in the European Cup event that took place in the last three years and seeing how the atmosphere and expectation grows as the race approaches. The support of the public is going to be very important and really valued by all of us who participate. I want to be on the starting line and give my best in the race "
"People in Pontevedra will take to the streets as they have done on other occasions and it is also certain that many people from other places will come to witness a first-rate triathlon. Precisely, those who make this race special are them, the public that crowds the streets and makes you not feel alone for a second of competition. In previous years it has been the test in Spain that has gathered the most public, and this time, being a higher level race, we hope it will be a great triathlon party and everyone will sign up and enjoy it. Suffering is our turn "
For José Hidalgo, President of the Spanish Triathlon Federation, "The commitment of this city to triathlon has been clearly demonstrated in the work and effort made by the Galician Federation to organize tests of this caliber, in addition to having support from the City Council to host this type of event in your city. Pontevedra has a great social projection, the result of the success of its athletes, which is also demonstrated in the success of its triathletes at a private level and its clubs at a global level. Having two Olympic triathletes has generated great love for this sport in Galicia ". "Pontevedra is a special place, a city that lives sport day by day and has a great hobby, as well as unbeatable conditions for training and practicing this sport thanks to its commitment to creating a high-performance center"
Source: FETRI