Noya regains the first place in the World Series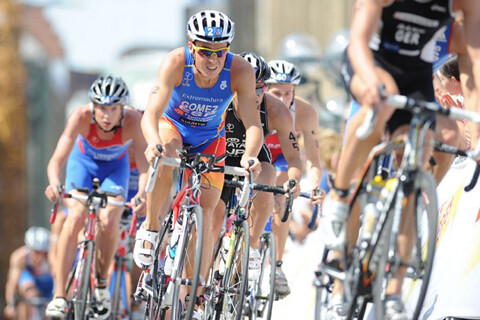 The fourth round of the world triathlon series was held in Hamburg, after an exciting sprint the Australian Brad Kahlefeldt has managed to reach the finish line in first position
Six triathletes have been those who have disputed the first position of the podium until practically the entrance to the finish line, among them the Spanish and current world champion, Javier Gómez Noya. With a time of 01:44:19, Noya reached the finish line in sixth position, just a few seconds behind the first classified, thus regaining the first position of the World Series with a total of 2026 points, followed by Englishman William Clarke , 1935 points and the French David Hauss, with 1905 points.
In one of the most exciting races of the season, in which the top four finishers managed to complete the final 10 km in less than 30 minutes, Australian Brad Kahlefeldt with a time of 01:44:08 took gold, followed from the English, William Clarke, 01:44:09 and from the French David Hauss, 01:44:09.
In the last three kilometers, just before the finish line, Gómez Noya tried to force the race to reach the finish line first, but William Clarke remained close behind, giving him no option to make a break, and it was in the last kilometer where Kahlefeldt, Hauss and Clarke formed a leading group that carried the excitement to the final arc.
For his part, the German and current champion of the 2008 Athens Olympic Games, Jan Frodeno, he had a good cycling segment, but he had problems with the bike on the last lap, and this delayed him two minutes from the leading group, which took away any podium option. Despite this, he finished the race in 43rd place. Among the Spanish we were able to count on the presence of Iván Raña, 34 and Mario Mola, 46.
All results:
http://www.triathlon.org/results/results/kahlefeldt_claims_first_world_series_win_in_thrilling_sprint/5986/
TOP 10 ELITE MALE
| | | | | |
| --- | --- | --- | --- | --- |
| 1. | | AUS | | 01:44:08 |
| 2. | | GBR | | 01:44:09 |
| 3. | | FRA | | 01:44:09 |
| 4. | | GER | | 01:44:12 |
| 5. | | BY | | 01:44:16 |
| 6. | Javier Gómez Noya | ESP | | 01:44:19 |
| 7. | | GBR | | 01:44:33 |
| 8. | | SUI | | 01:44:35 |
| 9. | | GER | | 01:44:44 |
| 10. | | SUI | | 01:44:56 |
34. Ivan Raña
46. ​​Mario Mola
Web information: