Noya climbs for the fifth consecutive time to the podium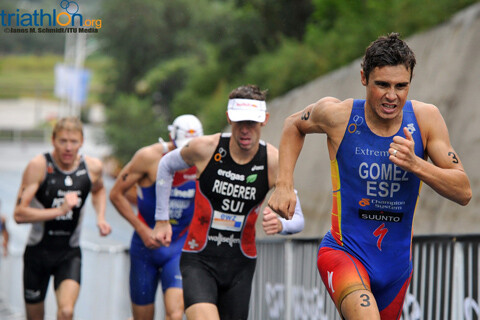 Javier Gómez Noya adds one more podium to his international record. A total of five consecutive times has managed the Spanish triathlete to be at the top in a World Championship
Although it is difficult to classify a triathlete as 'the best in the history of our country', what no one can argue, if there were any doubts before, is that Javier Gómez Noya is among the best triathletes in the history of this sport.
Despite the fact that in his statements to the press once he reached the finish line he commented to us "I haven't had my best day, it was a tough race from the beginning due to the pace and the weather conditions. I have suffered a lot to keep the podium in the world championship and have an acceptable race ". "My swimming has been normal, although perhaps my positioning was not good, I started later than usual. Anyway, I managed to place myself in the first group of the bike, which is the important thing.
From there the race became very hard due to the cold and the rain. I think I've never been so cold in the race and that took its toll on me. When it came to running, despite not having very good feelings, I tried to follow the Brownlees from the beginning and kept them within a few seconds, but then I paid for that effort and was caught by a small group of 4 that came from behind. Finally I finished 6th, ensuring the bronze in the world championship that, whatever I did in the race, it was the maximum I could aspire to "
For the Ferrol "the rain was an important factor that made the race very hard. But the conditions were the same for everyone. It is true that some do better than others and I usually perform well in adverse conditions, but it was not like that that time. "
"In any case, if I can feel satisfied with the overall result of these last years, I am aware that it is not an easy task to get on the podium for five consecutive times in a World Championship"
Javier Gómez Noya, one more year, has shown us to be a great fighter and an excellent athlete, both inside and outside the competition.