Noya and the Brownlee meet again in Pontevedra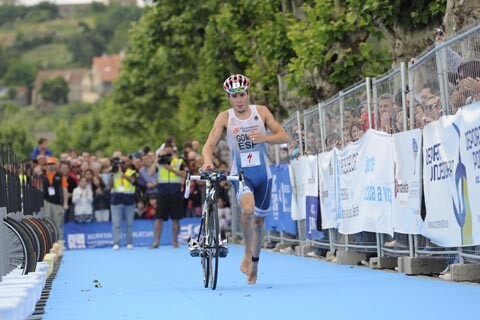 The Galician focused the 2011 season on the European Championship that is decided today.
The current world champion, Javier Gómez Noya, will face this Saturday the defender of the continental title and provisional leader of the World Series, Alistair Brownlee.
Gómez Noya will be looking for his third European championship on a circuit that points out that "it is not too hard but what makes a race last is the pace and I think it will be very fast."
The Ferrol will have the public on his side and that is known to Alistair Brownlee himself. It will be the first time that the Briton competes in Pontevedra but he has already been told that "the fans in Pontevedra are very good and one of the most numerous in Europe."
The list of favorites is completed by the youngest of the Brownlees, Jonathan, second in the Sydney and Madrid World Cup events, the Russians Brukhankov and Polyansky, the French Hauss and the Portuguese Joao Silva. Ordense Iván Raña is not ruled out either Mario Mola, second in the 2010 Pontevedra European Cup.
The rest of the Spanish team is made up of Josemi Pérez and Ramón Ejeda.
The men's start will take place this Saturday at 19.00:XNUMX p.m.
Murua leaves as favorite to the women's podium
Ainhoa ​​Murua is one of the candidates for the European medal, along with the French Emmie Charayron and Carole Peon. The Gipuzkoan, who finished 17th last weekend in the Kitzbühel World Series event, arrives in good shape and looks likely to finish in the top three.
Regarding the race, Murua, 21st in the current world ranking, sets swimming as decisive. It all depends on whether a large or small group is formed in the first segment of the competition.
In addition to Murua, the Spanish team includes Zuriñe Rodríguez, Marina Damlaimcourt, María Pujol and the Galician Marta Jiménez.
The title of European champion will be decided this Saturday from 12.30:XNUMX p.m.
Source: FETRI