New FETRI results manager
FETRI launches in 2023 a new results manager and state-of-the-art calendar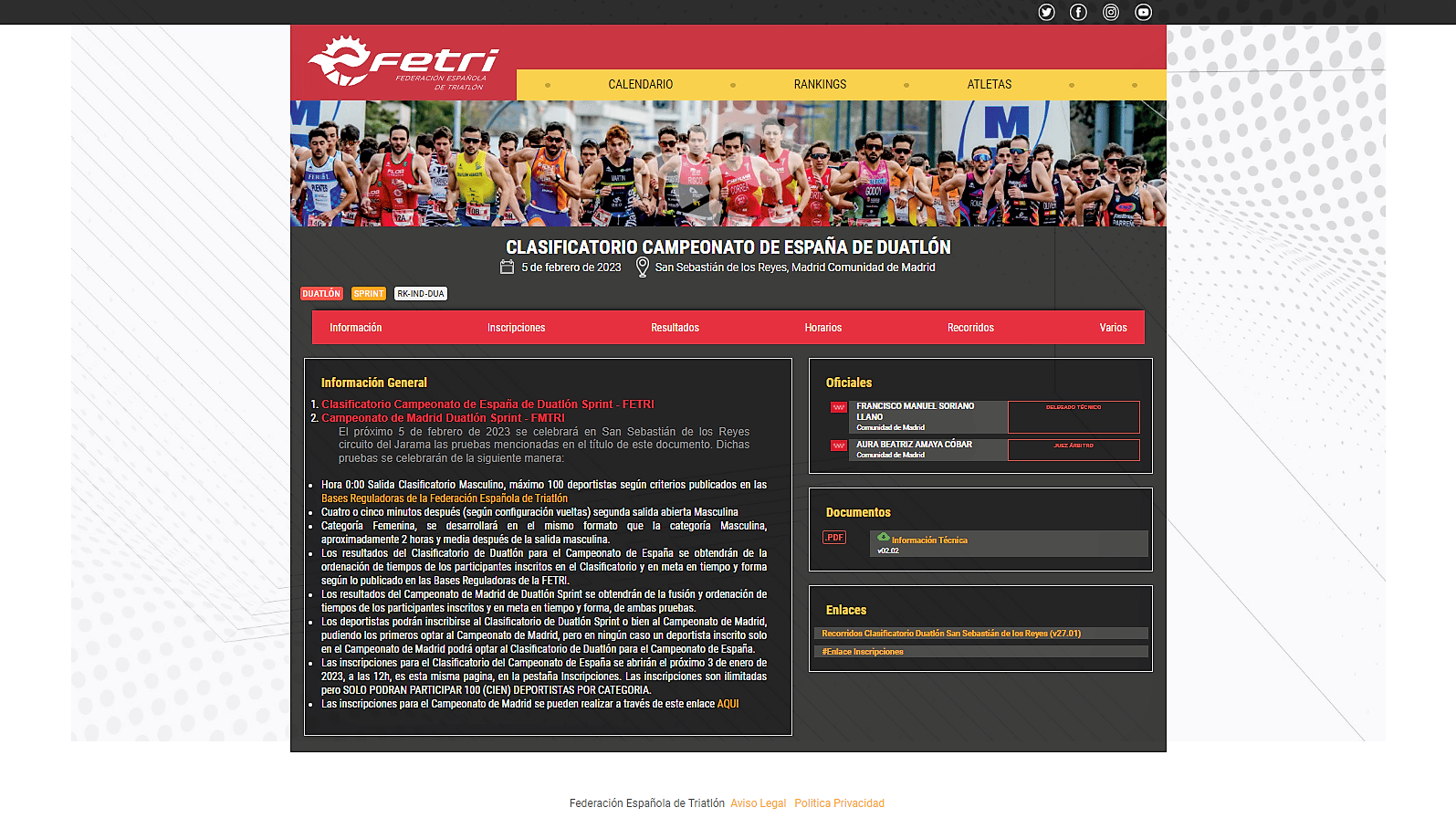 The Spanish Triathlon Federation continues with its technological evolution to be the spearhead in the service it offers to its triathletes and members in the field of national and international competitions that it organizes in our country, and hand in hand with the company specialized in the application of technology to sport Conersys.
Coneresys brings to FETRI its more than 25 years of experience in technological development for sporting events.
Throughl new results manager and calendar applies the latest technologies on the market to provide a results service in real time and with an optimal user experience.
The entire technological infrastructure is based on work models used in BigData environments to guarantee the integrity of the information in minimum response times.
The first steps have already been taken through the results and calendar manager and its evolution will be constant, bringing technology closer to the FETRI community.
The roadmap will be to improve the platform day by day, meeting the demands of the users to have an optimal final experience based on the most important thing: real-time access to information.
In this first phase and as a continuation of what was already implemented last year in Banyoles and Cartagena, a new platform is made available to the federated members that integrates the following aspects:
New calendar portal Comprehensive for all competitions with automatic filters that allow you to locate any competition in terms of the different search criteria that are established, from the Spanish Championships, to the Autonomous Championships, through National Ranking Tests, or Ironman, Challenge, etc.
New results portal Prepared for uploading offline results and live results for those competitions in which the service is integrated, mainly the Spanish Championships.
Integration via API of services automatically based on the agreements established with the FETRI with different providers, such as Wikiloc or Meteoclim
All these innovations will allow the entire data ecosystem to be integrated and interrelated, and that in successive phases will allow the addition of new technological services, automate rankings, generate statistics, comparators, etc.
You can access the service in this address