Javier Gómez Noya's new goal
The Galician already has a new goal after ruling out Kona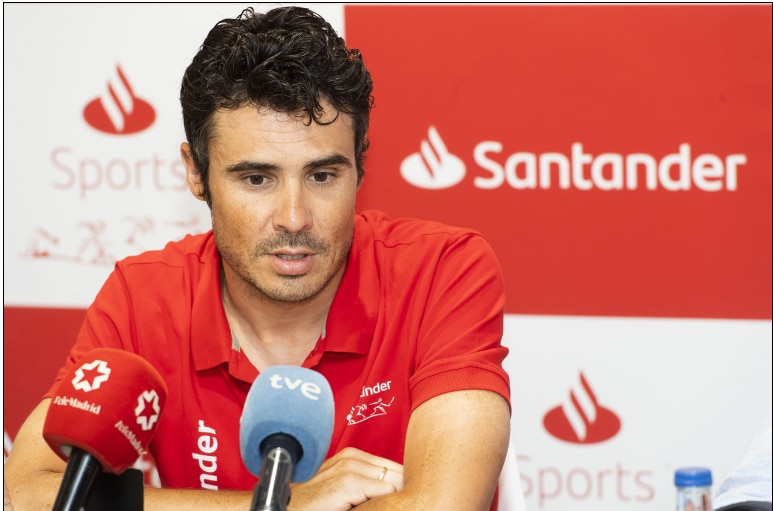 Javier Gómez Noya today announced its decision to focus on the World Half Ironman, as a result of the consequences that COVID left him in the month of May.
It was just before traveling to the US to participate in the World Cup in St George, Utah, so also postpones its participation in the World Cup in Hawaii, in Kona, until 2023.
The Sports Santander ambassador held a meeting with the press today at the Santander Work Café on Paseo de Recoletos in Madrid and assured that, despite the initial frustration, he keeps the illusion alive because "the season is not lost yet".
Javier Gómez Noya explained that the disease "hit me strong" and suffered "fatigue, muscle pain" and even had "a complication, although minor, at the cardiac level but you always have to be careful." That slowed her return to activity and, now, in view of the calendar, going to Kona "would have been a lottery."
"It has been a difficult year with many ups and downs. The day before traveling to St George I got sick and had to cancel.
It was a complicated COVID, it left me with some consequences. That is why I have been all this time without competing and I have had to train a little easier for a couple of months.
Now, finally, everything is in place and I am already training very consistently, improving my level and setting goals for myself.
Until now I couldn't set a calendar because I didn't know how my body was going to respond, "he said. Overcome the pothole, "I'm looking forward to going back to work."
"It was frustrating, yes. I started the year winning in Pucón in January and I had a lot of time to prepare for the Ironman.
I trained a lot, I did two concentrations at altitude, I was in Mallorca and when I was doing the set-up I got sick and that work could not be reflected, and that is what makes you most angry. But that's the way things are and it's time to move on", He stressed.
"My goal was Kona but that is complicated especially by the qualifying period that ends in two or three weeks and I think it would be risky to compete to qualify, I would not do the proper preparation and it would be a bit of a lottery.
Then he would have to recover and he would not have enough time for Kona either. So thinking a bit with my head, it is better for this year to focus on the half Ironman world championship for which I am qualified and it is in the middle of October".
He also plans to compete in PTO trials.
Javier Gómez Noya plans, thus, participate in some PTO tryouts, Specifically, in the quote Dallas.
"It is in the month of September and I would like to be there and possibly also run some other test in Spain lower profile to start shooting at the end of August, for example. And yes, I do not rule out ending an Ironman thinking about Kona by 2023".
The Sports Santander ambassador said he was especially attracted to the PTO competitions because "they are also doing very interesting races, it is where there are better prizes, where the best triathletes meet and where the professionals are best treated".
The 70.3 distance is, after all, one of his specialties. "I have been twice world champion in half ironman.
The level, of course, is very high. It is a test where the best long and short distance come together and in the end it is where there is the highest level in the world of triathlon.
So my dream is to win it again. Let's go for it all and then we'll see where the classification puts each of us".
What if it's a lost year? "I don't consider it a lost year yet"
If I win the 70.3 World Cup it will have been great and if not it will have been another bad year.
I'm still on time. I know the Kona target is not realistic and I am going to focus on other races. Now it is what he touches. The season can still be saved."
New life, new discipline
Despite the difficulties, Javier Gómez Noya once again stressed that his decision to leave the Olympic distance for the long distance cannot be reversed, at least for the moment.
The Olympic distance is parked. I do not contemplate going back.
They have asked me to compete in the World Series in Pontevedra, which I have helped to do, but I still feel like an athlete and now what motivates me is the long distance and that's what I'm working on".
What's more, "when you've been here for so many years it's hard to keep up the illusion, but if I retired I would continue playing sports because I like this healthy lifestyle.
When you have spent a long time like I have in the Olympic distance and with great success, sometimes it is easy to reach the starting gate and not feel that bug, it already seems like another day at the office. And I think that is not good.
In my case, the move to the long distance is a renewal of motivation and hope, of things to learn and improve and that has been good for me to keep that desire because I am facing something more unknown and newer".
The Sports Santander ambassador explained how his way of training has changed:
"The bike has gained more prominence, also against the clock, I do more strength work, I take care that the level of nutrition is more efficient and in swimming I have lowered the intensity a bit and in the run I have gone from intensity to more volume to control muscular resistance after 5 hours of competition".
And although he misses not competing so often, nothing and no one will make him change his course for the time being.
"I am grateful that the federation and also the international one give me work and, although I would like to continue linked to this sport, for now I am still a professional athlete".