Triathlon News
Ibiza presents its sports offer for 2015 with Triathlon, Swim trips, cycling and much more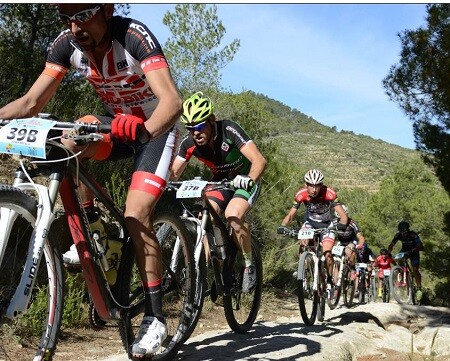 Within the framework of Fitur, Turismo de Ibiza has presented its sports agenda for 2015 in Madrid
Turismo de Ibiza is presented in Fitur with a list of the 10 most important sporting events and competitions that will take place on Pitiusa Island throughout 2015. A total of 3 walking races, 3 cycling events, 1 triathlon, 2 crossings Swimming and a regatta that represent an attractive and original offer for sports, nature and adventure lovers of different levels, both professional and amateur.
All of them are favored both by the natural environment of Ibiza and by its landscape, infrastructure and the experience of the organizers in events of this type. But, above all, for the good climatic conditions of the island, suitable for developing any type of outdoor sports, especially in the months of spring, autumn or in its mild winter. In fact, prominent athletes of recognized international prestige have chosen it to prepare themselves, in the absolute discretion, on their roads, roads, trails, places and beaches.
The sporting events that will be held throughout 2015 in Ibiza are the following:
1. Popular Race "From Paseo to Paseo".
A total of 15 km with departure in the city of Ibiza, declared a World Heritage Site by UNESCO, and arrival at one of the most beautiful villages on the island, Santa Eulària des Riu. A race with practically flat layout, with little slope and surrounded by pine trees, countryside and mountains that can be enjoyed by veterans and novices on April 19.
More information: www.santaeularia.com; www.santaeulaliaibiza.travel; www.ibizadeporte.es
2. Ruta de la Sal.
On April 2, 3, 4 and 5 - coinciding with Holy Week - this tall cruising sailing regatta will be held, one of the most popular in the Mediterranean and the quintessential nautical - tourist event in Ibiza. An international competition involving nearly 200 sailboats from all over Europe and also American and Russian crews that repeat year after year. The Ruta de La Sal will depart next Thursday, April 2 from Barcelona to make a 140-nautical-mile route directly to St. Antoni de Portmany in Ibiza. Simultaneously, another group of sailors will leave from the Royal Nautical Club of Denia in a 120-mile circuit that forces teams in competition to take Formentera by port, the island of Tagomago and navigate the northern coast of Ibiza until reaching Sant Antoni de Portmany
The Regatta mobilizes every year about 1.500 sailors plus family and fans, for which a series of complementary activities are organized such as the Fira Pagesa of Typical Products of Ibiza, the Raid of Classic Cars of Salt or guided tours of the island, since the stay in Ibiza is one of the most intense parts of the Route.
Throughout its history, renowned sailors such as Alex Pella, Winner of the 2014 Rum Route or Buby Samso and Albert Bargues, participants in the World Race, have competed in the Salt Route.
More information: www.larutadelasal.com; www.anambcn.org
3. XIV International Tour to Ibiza in Mountain Bike.
On April 3,4, 5 and 2015, 224, coinciding with Holy Week, are the dates chosen for this classic mountain bike sporting event, a total of 3 kilometers of roads and trails, traveling through beautiful landscapes of the coast and the Interior of the island. Outstanding figures from the world of cycling will coincide these XNUMX days of the race, which has great international recognition.
More information: www.ibizabtt.com
4. Ibiza Half Marathon.
May 1 is the date indicated for this half marathon of 21 kilometers, which coincides with another more popular race, of 10 kilometers, and that goes out of the usual of these tests that usually develop in urban circuits. The starting gun will be in Sant Mateu, a small town in the interior of the island, with a route that runs, mainly, through roads surrounded by pine trees and vegetation, and by picturesque villages such as Santa Gertrudis, until you reach the city of Ibiza Without a doubt, it is an unavoidable proof within the calendar of r At national and international level. In fact, it has participants from different parts of Europe. The test is approved by the RFEA and, being a flat course, allows athletes to improve their marks at these distances.
More information: www.mediomaratonibiza.com
5. Swimming trip Ibiza World Heritage Site.
This crossing takes place on the beach of Talamanca, where two distances (3 or 6 km) are combined. On May 10, swimmers will contest this race in these crystalline waters of the municipality with the seabed and posidonia fields at their feet, coinciding with the celebration of the declaration of Ibiza as a World Heritage Site by UNESCO, among whose acts A spectacular medieval market is included. More information: www.ibizamastersnatacion.org
6. Formentera - Ibiza Ultraswim Swimming journey.
Suitable for the brave, on May 23, the third edition of this 30km swim crossing will take place, linking the islands of Formentera and Ibiza until reaching the municipality of Santa Eulària. In 2015, you can enjoy a more competitive race from the start because the distances between swimmers will not be so controlled, and thus, the spectacular nature of the event is assured. Due to social demand, this new edition will have two more coastal crossings, suitable for all swimmers: one 5 km away and the other 750 m. The three modalities will end simultaneously on the beach of Santa Eulària des Riu, to convert the arrival of the participants in the great swimming party.
More information www.clubnauticosantaeulalia.com.
7. Ibiza Triathlon Long distance
The island of Ibiza has always been a reference in triathlon and has organized different tests of this endurance sport worldwide. In addition, its pleasant temperatures make it possible for participants to go to the island by these dates to train (and compete). On October 25, the triathletes have an appointment on the beach of Figueretas to participate in this competition in its purest form: a total of 4 km of swimming, 120 km of cycling and 30 km of running on foot that will cover the cultural enclaves and most outstanding assets of the municipality.
More information: www.triatlonibiza.com.
8. Ibiza Trail Maraton
A total of 8, 21 and 42 kms of Trail Running through the interior and the coast of Ibiza make this test one of the most spectacular. With departure and arrival in the municipality of Sant Antoni and its bay, despite its hardness, the athlete will feel accompanied on the roads by the great natural beauty of the island on this route with departure and arrival in the municipality of Sant Antoni. Date: November 1.
More information: www.ibizabtt.com.
9. Cycling Tour to Ibiza.
The road bike also has its place in Ibiza. On December 5, 6, 7 and 8 this test will be developed for cycling enthusiasts on tours framed by the Mediterranean atmosphere of the island. In addition to the bicycle touring approach, the Tour has a competitive side, in which participants can check their strength in timed sections.
More information: www.ibizabtt.com.
10. Popular Race of the Turkey Race.
Coinciding with the Tour of Ibiza, on December 8, the cycling race with the most popular participation on the island will be held: a total of 800 cyclists attended in 2014. This 42-kilometer race, with departure and arrival in the city of Ibiza, also It is an opportunity to check the physical form of its participants, since, to its popular character, a parallel competition joins. And all this surrounded by the Nature of the beautiful island Pitiusa.
More information: www.ibizabtt.com; www.ibizadeporte.es
The Minister of Tourism, Mrs. Carmen Ferrer, says: "With the celebration of these events and sports competitions in times that are not high season, we want to think of Ibiza not only as a destination of sun and beach and summer, but as a destination for the whole year, where you do tourism and practice sports. These tests serve to know Ibiza from another perspective in all its splendor during any time of the year, and therefore, seasonally adjusted. In addition, they allow fans to enjoy all the nature of the island, both inland and along the coast, with its Mediterranean forests, roads, trails, landscapes and beaches. "