Gold and Silver for Spain in the Pan-American Triathlon Cup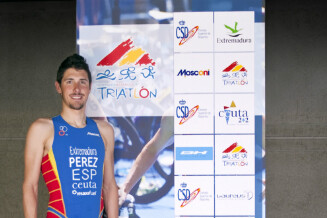 Yesterday the Central American and Caribbean Championship 2011 and the Pan American Triathlon Cup were held in the Ibero-American town of Guatapé (Colombia).
Representatives of the Spanish National Team attended the event with an excellent performance in the test. Jose Miguel Pérez (01:56:36) and Miguel Ángel Fidalgo (01:56:38) prevailed with total authority, achieving the first and second position on the podium respectively with a difference of practically one minute over the third classified, the Colombian Carlos Javier Quinchara (01:57:38). The third Spanish participant who attended the test, Uxio Abuin managed to stay in the top 10 reaching the finish line in 4th position.
The distance over which this competition has been carried out has been Olympic with a circuit consisting of two swimming laps of 750 meters, a cycling segment carried out on a paved race, with a hill on a route of 6,6 km and 3 subsequent laps of 13.2 km, where the triathletes, once they reached the transition, the triathletes had to complete a circuit of 4 laps on a paved terrain that cost 2.5 km.
TOP 10:
1 Jose Miguel Perez ESP 01: 56: 36
2 Miguel Angel Fidalgo ESP 01: 56: 38
3 Carlos Javier Quinchara Forero COL 01: 57: 38
4 Uxio Abuin Ares ESP 01: 58: 19
5 Ognjen Stojanovic SRB 01: 58: 36
6 Michel Gonzalez CUB 01: 58: 52
8 Gonzalo Raul Tellechea ARG
10 Carlos Enrique Perez VEN 02: 00: 52
SOURCE: FETRI