Another award for Gómez Noya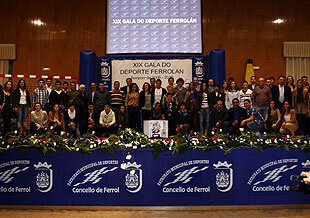 Ferrol surrendered yesterday, once again and it will not be the last, given the impressive career of the best athlete in its history: the triathlete Javier Gómez Noya, who once again received the affection and recognition of his city during the nineteenth Gala del Deporte Ferrolán, a party with half a thousand guests that was held from 20.00:XNUMX p.m. at the FIMO facilities, and that on this occasion, at the end of the awards ceremony, instead of a dinner, an aperitif was offered to the attendees to this annual sports festival.
The reign of Gómez Noya makes any vote unnecessary to choose the best athlete from Ferrol. No doubts. The triathlete closed a great year again, achieving victory in the World Cup, in the European Championship, as well as in the National Championship in this triple specialty.
Yesterday, he picked up his seventh Carabela de Prata as the Best Ferrol Athlete of the Year, in some awards that recognize the trajectory of the athletes from the town of A Coruña, and in which the winners were from nearly forty modalides or disciplines, from athletics to water polo , going through tennis, rowing, handball, hunting, golf, swimming, chess, paddle tennis, rugby, sailing or archery, among others. Thus, up to 37 different sports.
Along with Noya, the archery shooter Iria Grandal, who was awarded the Patronato de Deportes Trophy, received their prizes; the Tirso de Molina school as the Best Promotion Club after its hundred years of history and for being one of the institutions where many of the new values ​​and promises of sport in the city come from.
The award for Best Director went to Pilar Rodriguez, from the Club Valdetires futsal team. And that of Old Glory for Miguel Loureiro Rico, for his career in the world of basketball. As for the promises, the judoka Sergio Trillo, in the male category, and the triathlete Camila Alonso in the female category received their trophy.
The organization that closed the 2010 gala with the delivery of nine special mentions, and with an aperitif in the entrance hall of FIMO Ferrol.
Tonight Gómez Noya participates in the triathlon gala where he will receive another award.
Source: http://www.elcorreogallego.es/