Pablo Dapena will debut full distance in the Challenge of Madrid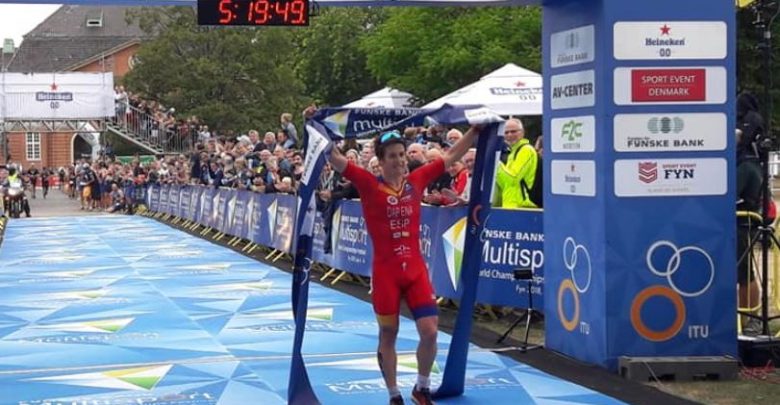 {wbamp-meta name = »image» url = »images / stories / news_08 / pablo-dapena-champion-world-triathlon-ld-fyn.JPG» width = »300" height = »150"}
The current champion of Spain and the World of Long Distance, will take another step in his career competing in the European Long Distance Championship, the Challenge Madrid.
The next September 23 will be held the second edition of the Challenge Madrid, proof that it will be Championship de Europe de Long Distance and that will have the presence of the champion of the world of the specialty, Galician Pablo Dapena.
It's pitiful will debut in the triathlon queen distance, the mythical 226 kilometers. In the Challenge Madrid, he will start his competition with the 3,8 kilometers of swimming in the Reservoir of Riosequillo in Buitrago de Lozoya. Later it will face the hard cyclist segment, with the ports of Canencia, Morcuera and Cotos, to head towards Madrid where the T2 will be located. After running the 42,2 km of the marathon, the trial will end at Puerta del Sol.
Pablo Dapena is competing this year to win the Challenge Family World Bonus, who distributes 165.000 dollars in prizes, with 30.000 to the winner and winner. For this, they score the six best results in several Challenge tests selected for this, in which there can be up to a maximum of 2 full distance tests, which score twice. Winning a half is 250 points while winning a full one is 500.
Nowadays Pablo is a leader with 1.100 points, thanks to his victories in Challenge Mogán y Challenge Lisbon and the second positions of Challenge Rome, Challenge Salou y Challenge Prague , try where you won Javier Gómez Noya
Your next race will be the Challenge Turku in Finland, where the German winner of the Challenge Roth will also be Sebastian Kienle, who currently holds second place in the Challenge Family World Bonus.
Photo: @triathlonlive