Pablo Dapena Challenge Family Ambassador
The Galician triathlete has been chosen as one of the franchise ambassadors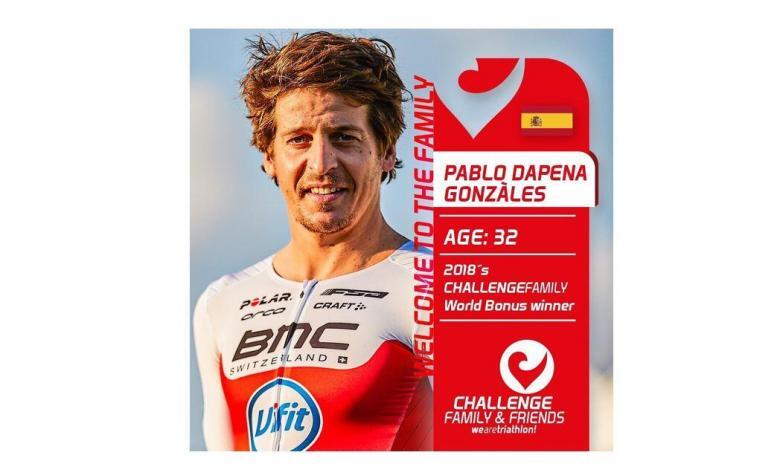 Challenge Family has announced the new brand ambassadors for this year 2020, highlights the Spanish Pablo Dapena, triathlete who has participated in numerous tests of the franchise
Furthermore, they have chosen Radka Kahlefeldt (CZE), Laura Siddall (GBR), Steve mckenna (AUS) and Kieran Lindars (GBR)
Pablo commented on this news:
"I am truly proud to be one of the ambassadors for 2020. From my point of view, every brand needs people to represent it.
In my case, I participate in around 6-7 CHALLENGEFAMILY races per year and I have a very good relationship with all the race directors, I inform them about whether I like the race, if they can change any part of the circuit and interesting things like this.
In summary, this embassy signifies great recognition from CHALLENGEFAMILY to me and I am extremely grateful for that. «.
On social networks Pablo published
Really proud to announce that i will be one of the @Challenge_Famil ambassadors for 2020https://t.co/6u7FsmRrY1

- Pablo Dapena Gonzale (@pablitopiny) March 12, 2020
For its part, Challenge Family published
This year Challenge Family will have ambassadors in age groups
This 2020 CHALLENGEFAMILY is increasing the number of ambassadors also naming age groups.
Twelve athletes from around the world will represent CHALLENGEFAMILY and in return all ambassadors will receive free merchandise, take advantage of sponsor offers and have free registration for two CHALLENGEFAMILY events.
These are the ambassadors chosen from thousands of requests from around the world:
Daniel Welsch, Zsofia Toth, Valeria Kleiner, Sabine Geyer, Anna Weinhardt, Shane Kent, Ronald Matamoros, Caterina Vacchi, Alexey Panfilov, Juan Pazos Eiroa, Shaun Crowley and Rajes Durbal.