Pablo Dapena wins the Lisbon Challenge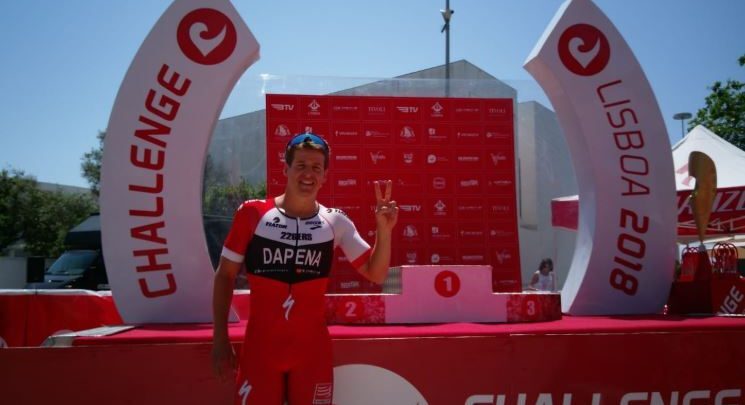 {wbamp-meta name = »image» url = »images / stories / news_08 / pablo-dapena-gana-challenge-lisboa.JPG» width = »300" height = »150"}
The Galician has achieved his second victory this season in Challenge tests, after winning in Mogan and getting a second place in Rome
Pablo despite not being at 100% of his chances because he has suffered a severe constipation during this week, he told us at the finish line " Being first from start to finish is very difficult in tests of this level, so I am very happy with the result.
The swimming went well, however the bike was not very hard in addition to having had a small mismatch with the coupling, once I reached the transition it was difficult for me to catch the rhythm in the running race but I finally succeeded and the result been unbeatable in my first participation in Challenge Lisboa. "
Today, the second edition of the Challenge Lisbon, a sports festival that is celebrated throughout the weekend with 6 different tests where they have participated more than 1.000 triathletes.
The test that already hung the poster of complete the past month of April has been a success in a spectacular day where it was also qualifying test for The Championship that the next June 3 will be held in Salmorin (Slovakia)
The test started at 7: 30 in the morning, with the queen test, the medium distance triathlon, with 1900m of swimming, 90 km of cycling and 21,1 km of running.
As for the circuits they are very fast. The 1.900m of swimming takes place in the estuary of the Tagus River, with very calm waters. Afterwards the cyclist segment is 4 turned to a fast circuit parallel to the river and practically flat, until completing the 90km, to finish with 21km of 2 on foot 10,5km laps completely flat and also parallel to the Tagus
In the male category Pablo It's pitiful, recent winner of Challenge Mogan and second in the Challenge of Rome has won the victory in the second edition of Challenge Lisboa with a final time of 3: 39: 11 followed by Patrick Dirksmeier (3: 39: 48) and for Jaroslav Kovacic (3: 40: 22) occupying the third final position
«Challenge Lisboa is a highly recommended test and due to the proximity to Spain, I encourage everyone to come here. Who likes to roll on the flat is a good place to start, I am very happy to come and hopefully I can repeat next year ". Dapena told us on her arrival at the finish line.
As for the women's test, the victory was for Corinne Abraham with a final time of 4: 00: 42 followed by Katrien Verstuyft (4: 04: 51) and for Bianca Steurer (4: 06: 03) occupying the third final position.
The British triathlete was the first time competing in Lisbon and highlighted the safety of the cyclist circuit, as this totally closed to traffic, which has very wide lanes where there is no drafting, besides the excellent climatology of Lisbon to hold a mid distance test.
The next goal of Pablo Dapena es Challenge Salou next week, where he will look for the triplet in Challenge tests.
Further information: http://www.challenge-lisboa.com