Pablo Dapena wins the Peguera Challenge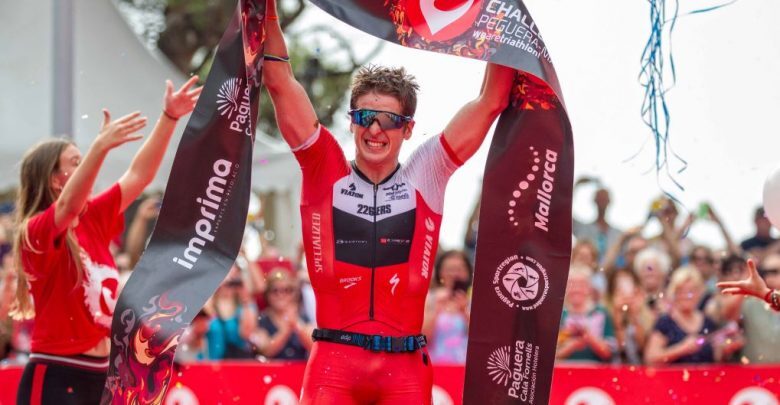 The Galician triathlete has won the event with a comeback in the running sector. Fernando Alarza has had to retire due to injury
Today a new edition of the Peguera Challenge was held in the Mallorcan town of Peguera, where some of the medium-distance Spanish runners were on the starting line.
The test that began at 9 in the morning with the 1.900 meters of swimming where the first to get out of the water was Manuel Kung with a group of 8 with Pablo Dapena, Carlos Lopez, Fernando Alarza. Emilio Aguayo He started more than 2 minutes from the head of the race.
In the first kilometers of cycling, the danish Daniel Bækkegård with Pablo Dapena went through the 15 km of the sector with 45 '' over Fernando Alarza and 4 minutes over Carlos López. Fernando Alarza he was forced to retire midway through a possible fracture in a toe at the water's edge.
In the passage through km 60, Daniel Bækkegård passed first with 2 minutes of advantage over Manuel Kung and Pablo Dapena who were together. Finally Bækkegård arrive alone at T2 with 1:30 of advantage over the group of Dapena and Kung.
In the 21 km of foot race little by little Pablo Dapena he was cutting the advantage to Daniel Bækkegård to surpass him in the final part of the test and achieving the victory in a time of 3:54:08. The second classified was Manuel Kung (3:56:09) followed by Jaroslav KOVACIC (4: 00: 19) who entered the third final position
As for the rest of the Spanish favorites, Emilio Aguayo y Carlos López they did not finish the test
With this victory Pablo Dapena is having a great season, having been LD World Champion , European LD runner-up in Challenge Madrid, having achieved victory in Challenge Lisbon, Challenge Mogan Second in Challenge Prague, Challenge Turku , Challenge Rome with the objective of getting the Challenge Family Word Bonus, where Sebatian Kienle is the leader with only 50 points of advantage over Pablo Dapena who has already scored points in the 6 races that score. After this victory we will have to wait for the update of the Ranking to see the ranking.
10 Top Classification
| | | |
| --- | --- | --- |
| 1 | Pablo DAPENA | 3:54:08 |
| 2 | Manuel KÜNG | 3:56:09 |
| 3 | Jaroslav KOVACIC | 4:00:19 |
| 4 | Daniel BÆKKEGÅRD | 4:01:00 |
| 5 | Thomas DAVIS | 4:02:04 |
| 6 | Milosz SOWINSKI | 4:02:33 |
| 7 | Marco AKERSHOEK | 4:05:07 |
| 8 | Konstantin BACHOR | 4:07:54 |
| 9 | Chris SILVER | 4:08:14 |
| 10 | Kacper ADAM | 4:09:34 |
In the female category the victory has been for Lucy Gossage with a time of 4: 26: 57, followed by Lena Berlinger (4: 31: 15) and for Katrien Verstuyft (4: 33: 17) occupying the third final position
Photo Challenge Mogan