Pablo Dapena joins the professional team BMC-Vifit PRO Triathlon Team
Pablo is one of the most exciting talents on the long distance triathlon scene and we strongly believe in his potential. "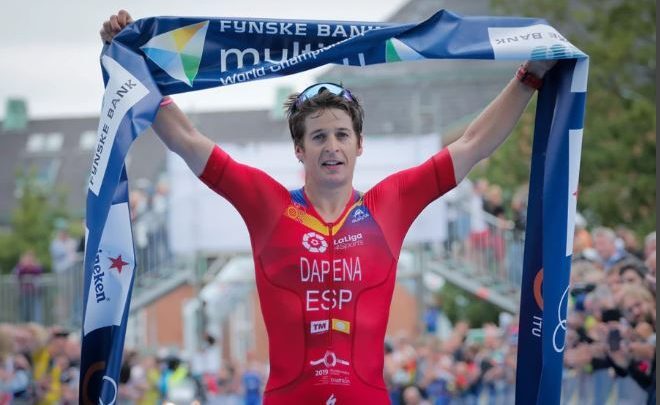 The Galician trialteta Pablo Dapena, will be part of this professional team in the 2019 season with some high level teammates.
«We are incredibly proud and excited to work with so much talent training next season. Pablo Gonzalez Dapena burst onto the scene at 2018, took the world title at the ITU Long Distance Triathlon World Championship and won one of the most prestigious middle distance events of the season.
Pablo is one of the most exciting talents on the long distance triathlon scene and we firmly believe in his potential.. "Says Bob De Wolf, team CEO
Team members:
• Will Clarke (GBR): multiple winner of IM 70.3, one of Ironman's fastest distance British athletes (7h45 IM Texas 2018), Beijing Olympic 2008, 10 best IM70.3 World Championship, 3er IM North American Championship 2018
• Pablo Dapena González (ESP): 2018 Long Distance ITU World Champion, winner of the 2018 Gran Canaria Challenge, winner of the 2018 Challenge Mallorca, 2do. ETU Challenge Long Distance European Championship 2018, ranked 1º Ranking Challenge Family 2018
• Manuel Küng (SUI): winner of multiple IM 70.3, winner of IM70.3 Luxembourg 2018, second IM70.3 Rapperswil 2018, second IM 70.3 Finland 2018 and second Challenge Mallorca 2018
• Chris Leiferman (USA): Winner IM Boulder 2018, winner IM Louisville 2018, 2º IM70.3 Marbella 2018, winner IM Mont Tremblant 2016
• Sarah Lewis (GBR / AUS): Challenge 2018 Challenge Rome, 2018 Challenge Finland winner, XMUMX Bahrain 2 IM70.3 Middle East Championship, 2018X IM2 Dubai, 70.3 ETU 2 European Long Distance Championship
• Patrik Nilsson (SWE): 2º European Championship IM in 2018, 4 times Ironman winner, 2 x sub 8 hours IM in 2016, winner IM Copenhagen 2016, winner IM Barcelona 2016, winner IM70.3 Barcelona 2016, 8º Ironman World Championship in Hawaii in 2017
• Emma Pallant (GBR): Vice Champion of the World IM70.3 in 2017, Aquathlon 2017 World Champion, 2 x Duathlon World Champion, IM70.3 Barcelona 2018 winner, winner of IM70.3 Staffordshire 2018, winner of IM70.3 Dun Laoghaire 2018
• Chelsea Reilly Sodaro (USA): Winner IM70.3 Indian Wells 2018, 3er IM70.3 Waco 2018, winner of the ITU World Cup Huatulco 2018, winner of the US National Champion. UU From the USA UU 2017, 2do. Sarasota ITU World Cup
In addition to Dapena they have joined the team Chealse Sodaro, Sarah Lewis, and Manuel Kung
The team was created in 2008, where it has achieved 5 victories and 81 podiums in the last 163 seasons. This 2018 they have achieved 19 victories and a second place in the Hawaii Ironman.
With the aim to win the world title
Emma Pallant finished second in the Ironman 70.3 World Championship in 2017 and Bart Aernouts was second this year in Kona. I know this is an extremely ambitious goal, but in the long term I firmly believe that we have the operational setup, the support of fantastic partners and the quality of the team to do it. says Team CEO Bob De Wolf
This year they will leave the team Bart Aernouts, Liz Blatchford, Maurice Clavel and Ronnie Schildknecht and join
Further information: http://www.uplacebmctriathlon.com
Photo: ITU