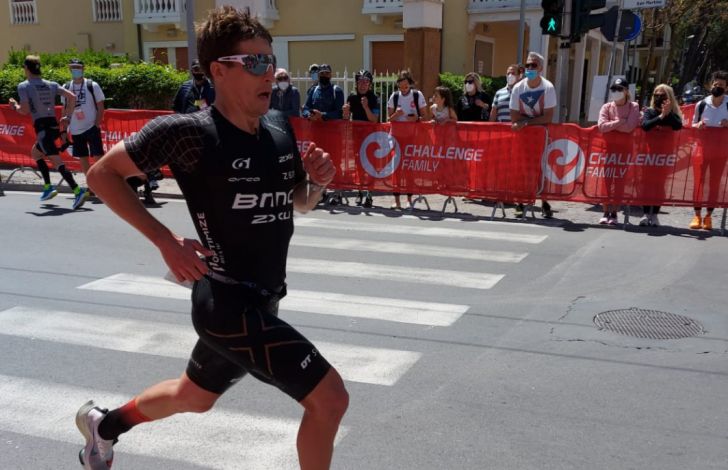 Today a new edition of the Challenge Riccione where triathletes of the stature of Sebastian Kienle, Pablo Dapena, Michael Raelert, Andi Boecherer or Fredrick Funk have started
The test that has been disputed under the medium distance format, He started at 9:30 with the 1.900 meter swim, where the first to get out of the water was Peter Heemeryk and 10 seconds Pablo Dapena. Very close behind came Davis Thomas, Guilio Molineri among others.
Sebastian Kienle lost in this segment about 3 minutes when he got out of the water.
In the 90 kilometers of 2-lap cycling, a group of 7 units was formed, rolling in 1 minute passing on the first lap with Mattia Ceccarelli in the lead with 8 seconds ahead of Heemeryk, Michael Raelert, Andi Boecherer. Pablo Dapena passed 30 seconds and Sebastian Kienle 3 minutes.
Gradually Ceccarelli increased his lead to reach T2 alone with 1:22 ahead of Frederick Funk and Giulio Molineri. Dapena was left about 2 minutes and Sebastian Kienle at this point was already 7th at 2:30 from the head of the race.
In the race on foot with some very strong first kilometers, Dapena was cutting time going through the first lap and second, less than 1 minute behind Ceccarelli.
At kilometer 5 of the test, Pablo put himself first and left alone to seek victory.
In the second lap, Dapena was already 1 minute ahead of Thomas Steger and Ceccarelli.
Steger was cutting time to reach the last lap with 32 seconds behind Dapena, while behind Sebastian Kienle with a great race was already in fourth position.
The final part was very exciting where we saw a duel for the victory between Dapena who was fighting to maintain her advantage and Steger to cut it.
In addition, in the fight for third place Sebastian Kienle, who had been cutting distance, threatened Ceccarelli as he was getting closer and closer to the Italian.
Dapena and Steger rode the last kilometers together so that finally Thomas Steger left alone and achieved victory with a time of 3:52:34 followed by Pablo Dapena with 3: 53: 54
Thomas Steger takes the win @challengericcio with a great run!#wearetriathlon #challengefamily #allabouttheathlete #challengericcione pic.twitter.com/XwS7wOdrbG

- Challenge Family (@Challenge_Famil) May 9, 2021
In the fight for third position Sebastian Kienle he caught up with and overtook Ceccarelli for third place finish with a time of 3:55:19.
Classification
| | |
| --- | --- |
| Athlete | Final time |
| STEGER THOMAS | 3:52:34 |
| DAPENA GONALE PABLO | 3:53:54 |
| KIENLE SEBASTIAN | 3:55:19 |
| CECCARELLI MATTIA | 3:55:59 |
| BOECHERER ANDI | 3:56:26 |
In the women's category victory has been for Sarissa De Vries with a time of 4: 23: 16 followed by Lee India (4: 29: 03) and Marta Bernardi (4: 33: 29) in third position
| | | |
| --- | --- | --- |
| Athlete | Nat. | Outcome |
| FROM VRIES SARISSA | NED | 4:23:16 |
| READ INDIA | GBR | 4:29:03 |
| BERNARDI MARTA | ITA | 4:33:29 |
| LEHRIEDER CAROLIN | GER | 4:34:34 |