Triathlon News
Pablo Dapena second in the Challenge Daytona
With second place, get third place in the Bonus Challenge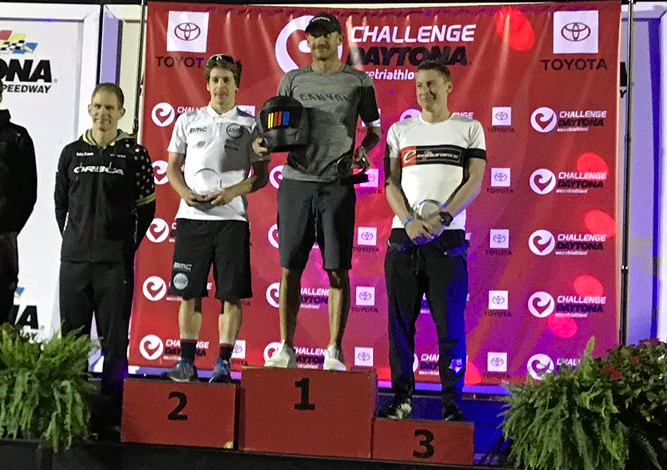 This morning, the second edition of the Daytona (Florida, USA) was played Challenge Daytona where the Spanish Pablo Dapena He has finished in second position.
The victory has been for Lionel Sanders, That he was the big favorite and that he came from last weekend's victory at the IRONMAN 70.3 Indian Wells, proving that he is in great shape.
Pablo, that with this test I have finished his season, has returned to render at a great level, after having been injured with 2 weeks without running and that has deprived him of fighting for victory.
As for the test, Pablo Dapena was in the lead with Jason West and Joey Malone. Starikowic went to 1: 40 and Lionel Sanders to 2: 30
In the cycling segment Andrew Starykowicz, with his great dominance of the segment, was climbing positions to overtake everyone and leave alone.
He was the first to arrive at T2, followed by 1 minute from Dapena and Sanders.
In the race on foot a beautiful duel could be seen between Sanders and Dapena, although the Galician in the game of changes of pace noticed the lack of training due to his injury, since he did not let him run in two weeks, to get off Sanders in the last round of the segment.
What a race was this! Congrats @LSandersTri, this was just amazing! #ChallengeDaytona #DaytonaInternationalSpeedway pic.twitter.com/9WPPfm5uoe

- Challenge Family (@Challenge_Famil) December 15, 2019
Finally, Lionel Sanders got the victory in a time of 2: 23: 02 followed by Pablo Dapena (2: 23: 32) and by Jason West (2: 27: 32) occupying the third final position.
Third of the Bonus Challenge Family
With this result, Galician has also risen to third place in the Bonus Challenge Ranking, where last year he shared first place together with Sebastian Kienle.
Paula Findlay takes the victory in females.
As for the women's event, the great favorite Lucy Charles has not been able to win the test, since Paula Findlay With a better segment of the running race he has achieved victory in a time of 2: 38: 47.
Charles has been second arriving at 1 minute and Lisa Norden third with 2: 43: 50.
Taking the Women's Middle Distance is @PaulaFindlay!! 🏁🥇🏆#ChallengeDAYTONA | @ChallengeDIS pic.twitter.com/QJW3kGLkjT

- Daytona International Speedway (@DISupdates) December 15, 2019
With this second place of Charles, he has secured second place in the Challenge Family Bonus