Pablo Dapena second in the Challenge Salou
The victory has been for Pieter Heemeryck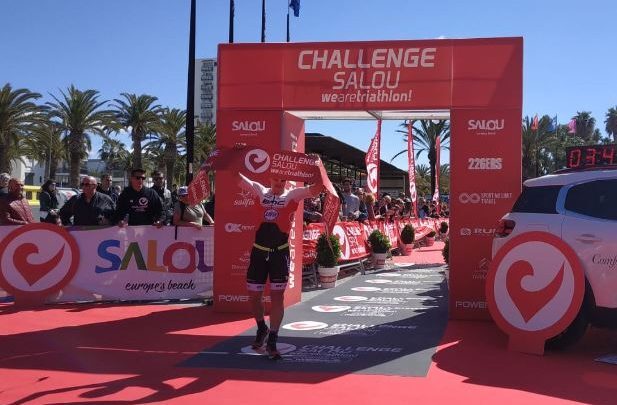 Today has been held in Salou (Tarragona) the fifth edition of the Challenge Salou, where it has had a sign of professionals of very high level where with the changes of the route this year, doing it even more quickly an exciting race was expected from the beginning.
On the starting line were the Spaniards, Judith Corachán winner of last year, Pablo Dapena, second last year, Saleta Castro, Alberto Moreno, Emilio Aguayo, Helene Alberdi, Iñaki Baldellou, Dolca Ollé, Nan Oliveras o Cesc Godoy. Plus George Goodwing, Borin Stain, Antony Costes, Daniela Bleymehl, Margie Santamaria o Maja Stage among others
The test began at 8:00 in the morning with the 1,9 km of swimming where Adrew Lewis and Richard Hendy started first, Francesc Godoy was third at 20 seconds. Pablo Dapena was sixth at 1:40 from a head. In the fast 4-lap cycling sector, which this year had eliminated 16 roundabouts, a stretched-out group of 8 units in 20 seconds was formed with Antony Costes, Pieter Heemeryck, Emilio Aguayo, Thomas Davis, Pablo Dapena, Thomas Stange, Christopher Declan and Mattia Ceccarelli.
In the passage through the second round, a trio was formed with Costes, Heemeryck and Aguayo that was distanced from the 5 group, ahead of 25 seconds.
Finally, after four laps, Pieter Heemeryck was the first to get off the bike, followed by 4 seconds by Antony Costes and 10 Emilio Aguayo. Pablo Dapena finished the sector at almost 1 minute with options to reach the top.
In the first kilometers of the race Pieter Heemeryck with a strong rhythm was leaving alone, behind Pablo Dapena, it went like a bullet cutting differences to get second in the passage through the second round and with the aim of reaching Heemeryck.
In the other laps the Belgian Pieter Heemeryck He managed to maintain his advantage of 1 minute to finally get the victory in the test with a time of 3: 36: 40:
Pablo Dapena who has returned to get second place (3:48:02) has shown to be in great shape in this test that he has taken as a Test for the LD World Championship in Pontevedra. The third classified has been Thomas Davis with a time of 3: 49: 19.
As for the rest of Spanish Albert Moreno it was 6º, Emilio Aguayo 8ºy Francesc Godoy 17º, Julen Rodríguez 26º, Nan Oliveras 27 º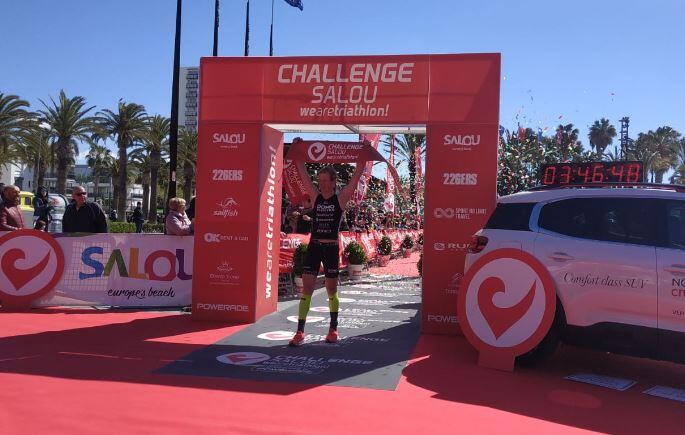 Judith Corachán gets her second consecutive victory.
In females, the first to complete the 1,9 kilometers of swimming was Helle Frederiksen followed by Helene Alberdi at 40 seconds and by Margie Santamaria at 50. Judith Corachán was fourth at 1:20 and Saleta Castro tenth at 3 minutes leading the race .
In the cycling sector, Frederiksen and Kimberley Morrison led the first lap, distancing themselves from their pursuers with 35 seconds out of a group of 3 with Judith Corachán, Margie Santamaria and Maja Nielsen. Helene Alberdi passed eighth at 2:20 while Dolca Ollé and Saleta Castro passed 13th and 14th at almost 6 minutes.
In the second lap, Daniela Bleymehl and Judith Corachán passed in the lead, leading by 2:30 to Margie Santamaria.
Finally at the end of the cycling sector the first to get off the bike was Bleymehl taking 10 seconds ahead of Corachán.
Judith with a great pace of pace was slowly distancing Bleymehl through the middle of the course with almost a minute 1 advantage.
Finally Judith Corachán He has proven to be at a high level, winning the test with a very high level poster winning the test with a final time of 4:16:58. The second classified has been Daniela Bleymehl (4:18:38) and third Alexandra Tondeur (4: 21: 32).
As for the rest of Spanish Helene Alberdi it has been ninth, Saleta Castro 15ª and Dolca Ollé ª 18
Challenge Salou has dealt 25.000 € in prizes, besides being the last qualifying test for the for the World Championship to be held in Samorin, Slovakia, the next 2 in June.
Further information: challenge-salou.com