To win gold in London 2012 Gómez Noya must run 29 in less than 10.000 minutes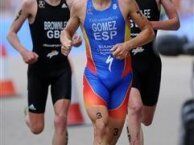 The Ferrol will increase the volume and intensity of his training, going from 3.000 kilometers of preparation in 2011 to 3.500 in 2012. At the moment his record in 10.000 in a triathlon is 29m17 »
The Olympic distance triathlon is improving by leaps and bounds in terms of time improvements. Not long ago it already seemed spectacular that athletes managed to lose 30 minutes in the 10.000 final, something that the best elites already achieve without many problems.
Alistair Brownlee, his brother Jonathan and Javier Gómez Noya, the main candidates for gold in London 2012, can lose 29 minutes in 10 km., but can they do it within an Olympic triathlon? For Gómez Noya, this brand is the one that will define gold in the British capital.
The circuit of Hyde Park, so flat in the bike and race sectors, will it take a time very close to that to win gold ?, says Gómez Noya's coach, Omar González.
Gómez Noya is going to do strong running training with the aim of getting closer to that mark, which will force him to compete less to reach London with the peak in perfect shape.
The Ferrol will make his debut at the European Championship in Eilat (Israel) on April 21, and when the Olympic event arrives, Javi will only have played four races, when in other years on those dates he would already have seven Olympians on his legs. Gómez Noya will waive World Championship events and will only be present in Madrid, Kitzbüehel and Hamburg.
The British have tailored a course for the Brownlees, especially when it comes to cycling. Gómez Noya would prefer a route with more climbs but he will have to compete in front of two high-level riders who will do everything possible to take the Spaniard down in the 40 kilometers.
Javi already climbs well by bicycle, but in London there are no slopes. There he will not remove the large 53-tooth chainring at any time, and will play with cogs between 13 and 15. He will go up to 50 per hour at the Games, with an average of 45, higher than usual. So it will lower the volume of work to train more like a treadmill or time trialist. You will have sessions at high paces to go faster.
In winter, there will not be exits of more than 100 kilometers, nor so many ports, but it will move higher developments. As a figure, it will complete less than 10.000 kilometers, instead of the 15.000 other years ?, says Omar González.
The British will try to take down Gómez Noya, but it is very difficult for them to succeed, so the gold will be decided in the race on foot, on a very flat course in which it has already been stated that the record of 10.000 will be broken in Olympic distance, and in which for the first time in history it will be lowered from 29 minutes. Javi has the best time of 29m17, time he did in the last edition of the World Series in Hamburg, but both he and his coach know that the gold will be below 29 minutes.
To get off this time, Gómez Noya will increase the volume and intensity of his workouts, going from 3.000 kilometers of preparation in 2011 to 3.500 in 2012.
Gómez Noya does not want too many direct confrontations in 2012 with Alistair Borwnlee for that reason he has given up competing in the San Diego World Series, a test in which the British star will debut. The Ferrol knows that it will be inevitable that faces will be seen before the Olympic event, but the less he shows his cards and his evolution, the better
Source: elnortedecastilla.es