Paratriathlon at IM Lanzarote: Javier Mérida discovers "because it's so hard"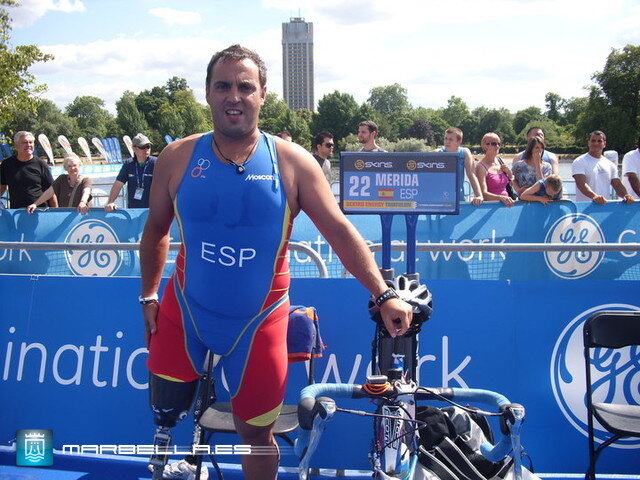 Next May 19 will take place the now mythical IM of Lanzarote, which will celebrate its 21st edition this year. Defined by the organization itself as a true challenge of physical and mental strength "where normal limits do not count"
Javier Mérida, will take part of the Paratriathlon category. The Triathlete has been competing in this category since 2007, when a car "crushed" his leg while he was taking his clothes out of the trunk to go to training. Today he tells us about his experience in the recognition of this spectacular circuit last February
In February I traveled to Lanzarote to do an "in situ" training session for the Ironman cycling tour in May. I stayed for a weekend at Club La Santa of which I can only praise its facilities and its staff.
I arrived on Friday night, so anxiously I went to bed as soon as I arrived to be ready for the next day.
Saturday 7:30 breakfast already by bike.
That day I played the southern part, from La Santa to Playa Blanca and back, incredible, truly spectacular landscape through the Timanfaya National Park, in which I traveled the 78 km in 2h 45min. (Route: Club La Santa - Playa Blanca -las arenas - Yaiza - Timanfaya - Club La Santa - The route is not very hard, although the asphalt grips a lot and the wind does not bother much.
Sunday. They had told me about the wind, the viewpoints, etc ... I left La Santa at 8:00 in the direction of Famara with comfortable terrain although the wind bothers you, but as it is just starting, it is hardly noticeable when turning towards Teguise it starts to sting the arrival to the town is long, you walk 4 or 5min and towards Haria. Wind farm, a hard ramp facing the wind until you reach a paella pan on the right hand side where you have to give everything to climb it. Slacken a bit (about 200m) and when you turn left you find an endless ramp of approximately 1km, with the head wind in which you die little by little until you reach the fans, right where they passed me Saleta Castro and Santamaría as missiles.
From there you go up and down without being able to rest until the descent of Haria, very, very fast in which you have time to forget the past suffering, and up again, for me the hardest part, the ramp of the park of the Penguins; from there to the viewpoint of the River that although hard, as you know that it is the last thing that remains, you go up with another face.
To go down, without resting on the asphalt that bounces a lot and well, heading to Teguise again and La santa in a time of 4h40 and 102km. Not bad for one leg, right?
In addition to the bike, I also enjoyed the Olympic swimming pool in 2 sessions: one of 3.200m and another of 2.000m
In summary he comments: "Cloth wind and slopes, slopes and more slopes and then ports and another behind and then down wind so as not to be able to relax and rest something. Even so, I have completed the route in 7h50 in total. " Javier did it in two days ... "You don't have to go over there either, there are still three months before the big day, but there shouldn't be any major problems" confides this paratriathlete.
Javier was born on April 15, 1973 in Marbella where he resides with his wife, a 6-year-old son and another on the way (for April)
Since then Javier Merida has not stopped doing sports.
His resume includes:
2009: Champion Spain Paratriathlon
2010: European Paratriathlon Champion, Spanish Paratriathlon Champion and 8th World Championship (Budapest)
2011: Spanish Paratriathlon Runner-up, European Paratriathlon Runner-up, Duathlon World Runner-up, Half ICAN Marbella-8h20, Half Challenge Calella-7h40.
He swam across the Strait of Gibraltar in July 2011 at 4:40
Ironman Lanzarote awaits you on May 19, don't miss it!