Part of the Spanish National Team attends the Enduroman of Lanzarote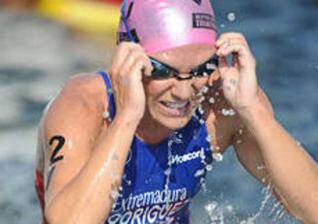 El Enduroman of Lanzarote, which is held on February 4 and 5, faces its final stretch with registration lists that continue to add important national and international triathlon figures. Of the 19 triathletes that are currently part of the men's and women's teams of the Spanish Triathlon Team, four of them have registered to participate in the Olympic Enduroman modality: elite athletes Zuriñe Rodríguez and José Miguel 'Josemi' Pérez and the juniors Uxío Abuín and Melina Alonso.
As reported by the magazine Enduroman, Rodríguez and Pérez will represent Spain at the London Olympics.
Despite their youth, all four have exceptional sports records. The Basque Zuriñe Rodríguez is 29 years old and began to practice triathlon in 1999. Since then she has already been international 81 times, getting five podiums and being Top 10 in 14 competitions. His great success came in 2003 when he won the bronze medal at the Under 23 World Championship in the city of Queenstown.
«Josemi» Pérez was born in Cuenca 26 years ago and has been international 55 times, obtaining six medals. He was first in the Guatapé Pan American Cup (Colombia) and second in the World Cup in Tongeyong last year.
Uxío Abuín from A Coruña is 21 years old and debuted in triathlon in 2005. Among other victories, he has been Galician cross-country champion, Duathlon World champion, European Junior runner-up in 2010, runner-up in the Ibero-American Championship and 4th in the Pan-American Cup in 2011.
Melisa Alonso from Ferrol is 19 years old and has been international four times, winning medals twice. She was 3rd in the 2011 Junior World Duathlon Championship and eighth in the Junior European Championship.
The Enduroman of Lanzarote hopes to repeat this year the success of the last occasion. This festival will bring together the triathlon elite around three modalities: the double Enduroman -7.6 km by swimming, 360 km by bicycle and 84.39 km-, the Enduroman -3.8 km by swimming, 180 km by bicycle and 42.195 km on foot- , the medium Enduroman - 1.9 km by swimming, 90 by bicycle and 21 on foot- and the Olympic Enduroman -1.5 km by swimming, 40 by bicycle and 10 on foot-.
The test will travel through the southwest of Yaiza, one of the most endearing municipalities on the island. The bicycles will roll along a circuit parallel to the coast of the Volcanoes Natural Park that surrounds Timanfaya. The swimming events will be held in the fishing village of Playa Blanca and the race on foot will take place along the promenade that connects Playa Blanca with the Marina Rubicón marina.
Source: farodevigo.es