Paula Findlay sweeps the Challenge Daytona
The Canadian has proven to be the strongest winning with much superiority.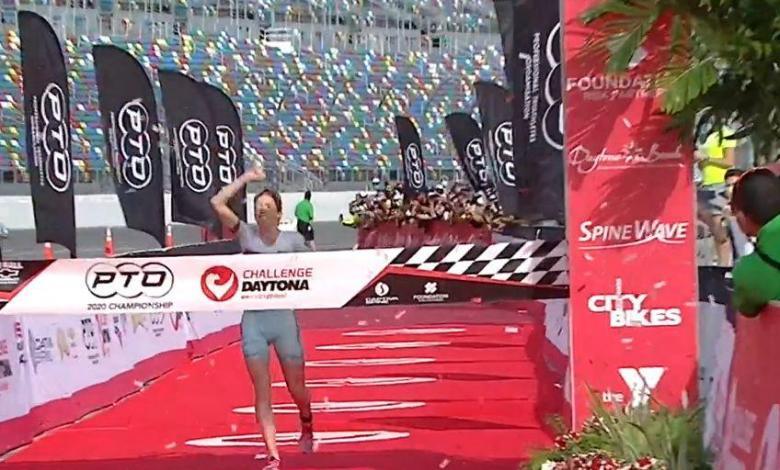 Today was played in Florida, the Challenge Daytona, PTO Championship where some of the best athletes in the specialty have participated.
The test that has been played in its entirety in the Daytona International Speedway and consisted of the following segments:
2.000 meters of swimming, taking 2 laps in the inner circuit lake.
80 kilometers of cycling, where 20 laps of the 4 km of the circuit have been completed.
18 kilometers of running, with 4 laps of 4,5 km
The winner has taken $ 100.000
This PTO championship delivers over $ 1 million in prizes, taking the winners $ 100.000, the second classified $ 70.000 and $ 50.000 the third
See in this article the PTO vs IRONMAN awards comparison
Video of the tour
Competition
The test began at 16:00 Spanish time with the 2.000 meters of swimming where the first out of the water was Lucy Hall followed by Lauren Brandon at 8 seconds and Fenella Langridge at 38 leading the group of favorites.
At this point Judith Corachán left 22nd at 1:57 and Gurutze Frades 40º to almost 7 minutes of the first classified.
El cycling segment has been very fast And it has had the Canadian Paula Findlay always in the lead followed in the first kilometers by Lisa Norden and a chasing group with Lucy Hall, Lauran Brandon, Fenella Lanbridge and Holly Laurence or Pamella Oliveria.
In the middle of the course Findlay was first with 24 seconds over Norden and led by about 1 minute to the chasing group. Anne Haug, IRONMAN World Champion in 2019 passed eighth to 2 minutes followed by Laura Philipp.
The Canadian continued her strong pace and continued to increase her lead to reach T2 with a 2:07 lead over Kimberley Morrison and 3 over Lucy Hall. Anne Haug was already fourth at 4 minutes.
Lisa Norden arrived with knee discomfort that forced her to withdraw early in the running race.
Judith Corachán was 19th at 7:21 and Gurutze 38th at 14:30 from Findlay
Here at the Foot race Findlay had no choice and continued to increase his lead through the 10th kilometer of the segment with 3:59 over Haug, with a great comeback that was cutting time, 4:43 on Laura Philipp and 5:24 on Holly Laurence.
In the last kilometers Paula Findlay he knew how to maintain his advantage to reach the finish line alone and achieve victory with a time of 3:24:55.
The second classified has been Anne Haug (3: 27: 32) and Laura Philipp third (3:30:00).
As for the Spanish Judith Corachán It has been 21º and Gurutze frades 30 ª.
Classification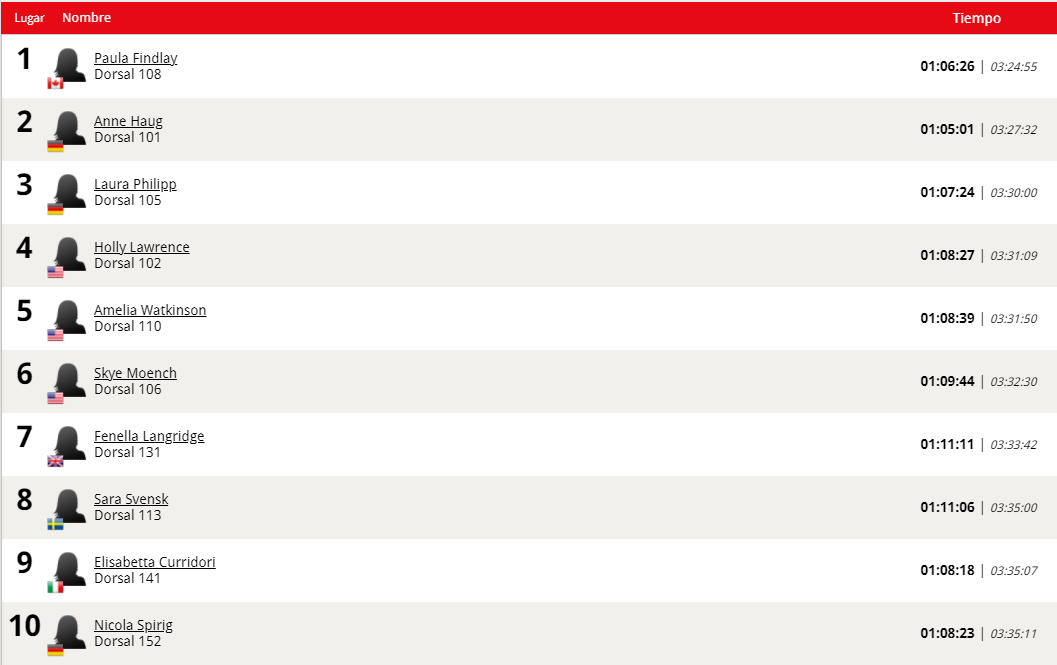 More information soon.