The Casa de Campo lake, in excellent condition to receive the Great Madrid triathlon
The city council has issued the permit so that you can swim in the lake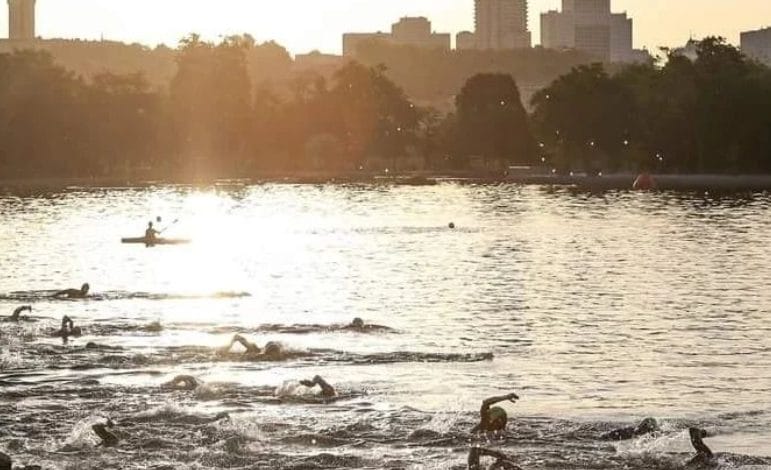 Good news for the Madrid triathlon since the Madrid City Council has confirmed that the Casa de Campo's lake is in excellent condition for swimming.
Water analyzes have been carried out and the good results have led to issue the permit for the first tests of the Triathlon season.
About 800 registered in the test
In the last days of the second price tranche, the Great Triathlon Madrid It already has almost 800 registered for the competitions on Saturday, July 2 and July 3.
On May 31 the competition will enter the final price section, which will end on June 30.
3 distances to choose
The program includes on Saturday morning the distance Super Sprint (350 meters swimming, 7,7 kilometers cycling and 2 kilometers running), sprint (750m – 20km – 5km) and standard (1500m – 40km -10km), in which you can participate individually or in relays. The individual sprint and standard competition is also scoring for the Fetri National Ranking, which awards prizes to the best national triathletes.
In addition, the Triathlon will take place on Sunday Team Time Trial, Madrid Championship and scoring event for the Madrid Club Ranking.
In this modality you can participate in popular, mixed, etc. Teams, whose inscriptions are open for all team formats.
This day already has the participation of more than 60 teams and is close to the halfway point of the squares, where the majority of Madrid clubs have confirmed their attendance.
In the coming days, more news will be announced regarding collaboration agreements for training, draws for participants, etc.
There is a little over a month left for what will be the Madrid Triathlon party, where athletes of all levels will meet in Casa de Campo to achieve their sporting challenge.
The School Triathlon will open registration on June 14 for priority categories and on June 17 for non-priority categories.
In compliance with the regulations of the school triathlon circuit, registration for the school competition will open on Tuesday 3 weeks before the date of the test for priority categories; in this case cadet and youth at 14:14 p.m. The date is June XNUMX.
For non-priority categories, registration will open on Friday, June 17 at 14:XNUMX p.m.; in this case children and youngsters and recreational tests for youngest and preyoungest children.
As there is no limit of seats, non-federated members can participate.
The school tests will be held on Saturday afternoon, and young triathletes from 6 to 17 years old will compete who will swim, pedal and run through the green lung of Madrid.
Collaboration of the Community of Madrid
The Community of Madrid collaborates in the different tests of the Great Madrid Triathlon as a joint initiative with the Madrid Triathlon Federation in order to promote the sport of triathlon.
Once again, the Community of Madrid is a benchmark as a venue for all kinds of sporting events, from grassroots sport to the highest sporting level.
All the information on how to cross the big goal of the national popular triathlon and the link to registration is on the web www.grantriatlonmadrid.com