Triathlon News
Judith Corachán and Pablo Dapena fourth in the Challenge Peguera Mallorca
Victory has been for Pieter Heëmeryck and Radka Kahlefeldt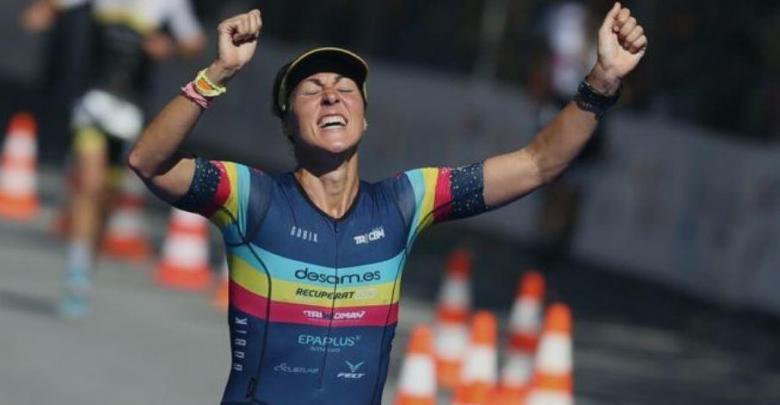 Today the sixth edition of the Challenge Peguera Mallorca where 1.200 triathletes has participated.
This edition has been marked by the high level existing in the professional category, the test will feature some of the current stars in the distance.
The sad news of the day has been the death of a triathlete in the swimming segment.
The test that was held in the medium distance format started at 9 in the morning with the 1.900-meter swim where Jan Stratmann was the first to come out of the water followed by Pablo Dapena at 3 seconds and by Kierin Lindars and Mauro Pera at 12 .
In the cycling segment, Pieter Heëmeryck quickly put himself in the lead, to go solo and pass kilometer 60 of the segment with a 3-minute lead over a group with Robert Kallin, Thomas Steger, Magnus Ditlev, Ruedi Wild and Antony Costes. Pablo Dapena was eighth at 6 minutes and Víctor del Corral 10th at 7.
Heëmeryck reached T2 first with a 4-minute lead over Kallin. At 5:40 a group arrived with Wild, Costes and Steger while Del Corral came eighth, Dapena ninth and Joan Nadal in almost 10 minutes.
Passing through the 10th kilometer of the race Heëmeryck was still leading with 6 minutes over Wild and Steger. Pablo Dapena climbed to fifth place last at 9:30 and Del Corral was still in eighth position and Nadal was tenth.
In passing through checkpoint 16, Heëmeryck increased his difference a bit more, passing 6:30 over Wild and Steger, while Dapena was already fourth.
Finally the Belgian Pieter Heëmeryck has achieved victory with a time of 3: 49: 57. Second has been Thomas Steger (3: 54: 13) and third Ruedi Wild (3: 56: 09).
As for the Spanish Pablo Dapena (3: 59: 18) has been fourth, Víctor del Corral (4:03:22) 6th, Joan Nadal (4:04:02) 8th as first Balearic.
Radka Kahlefeldt takes the victory
In the women's event, the first to emerge from the water was Radka Kahlefeldt followed by Fenella Langridge at 6 seconds and by Judith Corachán at 18. Laura Gómez was fourth leaving at 30 seconds.
In the cycling segment Langridge with a good rhythm is the one that was opening a gap in the race lead to pass at kilometer 60 first with a 1 minute advantage over Kahlefeldt and 5:20 over a group with Judith Corachán, Laura Gómez and Lisa Hütthaler .
Kahlefeldt came from behind in the last part of the segment and came first in T2 with almost 4 minutes on Hütthaler, Corachán and Gómez.
In passing through kilometer 5, Kahlefeldt continued as leader with Corachán second at 4:40 and Gómez third at 5:20.
At the checkpoint of the 15 km race, Kahlefeldt was first with a 6:30 advantage over Jeanne Collonge and 7:30 over Corachán who moved to third position. Laura Gómez was fifth, almost 10 'ahead of the race.
Finally, the victory went to Radka Kahlefeldt with a time of 4: 21: 42 followed byr Jeanne Collonge (4: 27: 34) and for Lisa Hüttaler (4: 28: 59) in third position.
Judith Corachán (4:30:28) He came in fourth place, Laura Gomez (4: 31: 10) has been fifth and Dolca Ollé (4:49:14) has been tenth.
Complete results:
https://statico.trackingsport.com/resultados/resultados.html?key=ZXY9NjM1
Website www.challenge-mallorca.com