Starting point for the Millennium Titan Desert with the presentation of the GAES team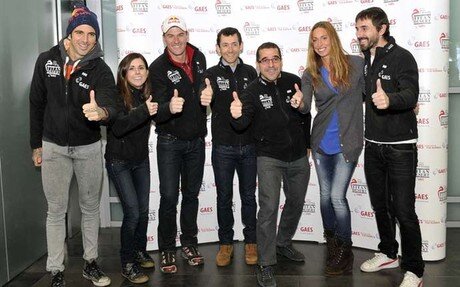 The Milenio Titan Desert began shooting this Thursday in Barcelona with the presentation of the GAES team that will compete in the demanding test that will be held from April 28 to May 4 in the Sahara desert
Marc Coma, Roberto Heras, Virginia Berasategui and Josef Ajram are some of the members of the GAES team for one of the most demanding mountain bike races in the world.
Accompanied by the General Director of the hearing health company, Antonio Gassó, and the team's godmother, the Olympic synchronized swimming champion Gemma Mengual, the athletes valued their participation in the test and highlighted the human value of the group. "It gets quite long but I am a lover of the desert. I was presented with this opportunity to enjoy it in a different way than what I am used to and I did not think about it. I'm sure I'm going to suffer a lot, but I'll try to enjoy it at the same time, "said Marc Coma, second-placed in the last Dakar last January.
The winner of the test in 2008, 2010 and 2011, Roberto Heras, is the leader of a group with a great challenge: to repeat last year's triumph. "The body suffers much more on a mountain bike than on a road bike, in addition to mental wear and tear", highlighted the former professional cyclist, winner of the Tour of Spain on three occasions.
Heras will be accompanied on this occasion by up to 45 members, among which the actor Santi Millán stands out. "I am the realization that if you propose it, anyone can do it, at least sign up… Antonio proposed it to me at the Selénica. Everything got mixed up there. I said yes because I didn't know what the Titan was and when I did it was too late, "joked the showman.
Finally, the 'ironman' Virginia Berasategui gave a sample of the spirit of improvement of each of the members of the GAES team. "My terrain is the road, but I like challenges and I want to enjoy not only the sporting experience, but also the human one," he said. And it is that the challenge of the Millennium Titan Desert by GAES has already begun ... and it promises!
Source: sport.es