Silver in Junior and Bronze in Elite for Spain in the World Championship of Duathlon Relays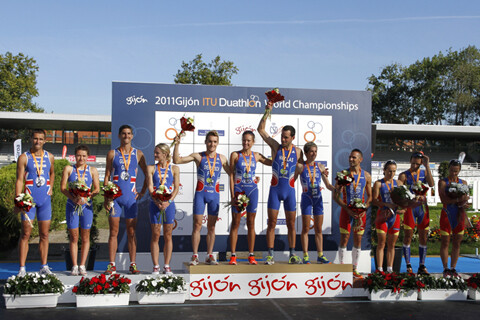 Excellent weekend for Spain, which has finished the last test, leaving a Silver and a Bronze medal in the Duathlon World Championship.
As a finishing touch to a weekend full of competitions, the Elite and Junior Duathlon World Relay Championships were held today in Gijón.
In this modality, each component of the team must complete the two-kilometer circuit on foot, eight in the cycling segment, and finish with another kilometer of foot race.
In the Elite category Spain has been represented by two teams:
1 Ana Burgos, Victor del Corral, Ainhoa ​​Murua and Roger Roca
2. Estefanía Dominguez, Miguel Angel Fidalgo, Ana Godoy and Raúl Amatrai
In this category, France took the gold medal. Silver went to the Great Britain team. Spain had to settle for a third place despite the fact that, according to the team's statements "we started with the hope of getting the gold medal, yesterday we had a good race and we looked strong, but many times it depends on how you propose the strategy As a team, and it could not be, despite this, we are happy to get one more medal in this world championship for Spain ".
The departure of the Junior team occurred at the same time, where we had two teams:
1 Miriam Casillas, Nan Oliveras, Melina Alonso and David Castro
2. Xisca tous, Antonio Benito, Laura Gómez and Jordi García
In this category Italy was the first to reach the finish. The second and third place went to Spain, although only the team that came in second place obtained a medal since it is the norm that if two teams from the same country have a medal option, the latter must resign from the podium. Thus, in this way the bronze medal went to South Africa although he came in fourth place.