Everything ready for the LD Spain Championship in Pontevedra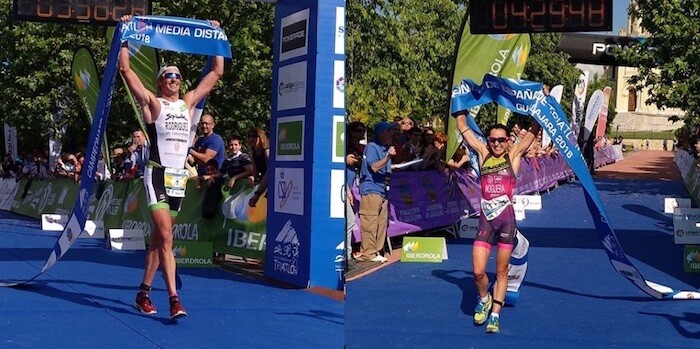 {wbamp-meta name = »image» url = »images / stories / news_08 / gustavo-rodriguez-anna-noguera-champions-spain-triathlon-media-distance-guadalajara.jpg» width = »300" height = »150" }
Gustavo Rodriguez and Anna Noguera will try to revalidate the title of Champions of Spain
This weekend the Long Distance Triathlon Championship will be held in Pontevedra as well as an Aquabike open test and a cross triathlon test as a test of the Multisport Festival that will be held next year in Pontevedra and in which five world championships will be held.
In total, close to 400 athletes will participate in the various tests
The Spanish Long Distance Championship will be held on Saturday August 25, which will also be the Galician championship. The test has a distance of 3 kilometers of swimming, 116 of cycling and 30 of running on foot and will begin at 9 in the morning.
Among the favorites we find Gustavo Rodríguez, Champion of Spain MD this year, Cristobal Dios, Saleta Castro o Anna Noguera in the female event. Highlights the absence de Pablo Dapena, winner of last year and current LD World Champion of the specialty.
In the men's event besides the aforementioned Gustavo Rodríguez, Cristóbal Dios there are triathletes like Ramón Ejeda, Carlos Aznar o Fernando Barroso who will try to fight for the places on the podium.
In the female category, the big favorites are Saleta Castro y Anna Noguera. Saleta returns to compete at home after several years, so she will be motivated to get back the title of champion of Spain as she did in 2010.
On the other hand Anna Noguera, current Champion of Spain MD and winner the last year of the title in the modality, will try to revalidate its title obtained last year.
In this category we must also take into account Helene Alberdi, Dolça Ollé and Estefanía Gómez among others.
Photo: @triatlonsp