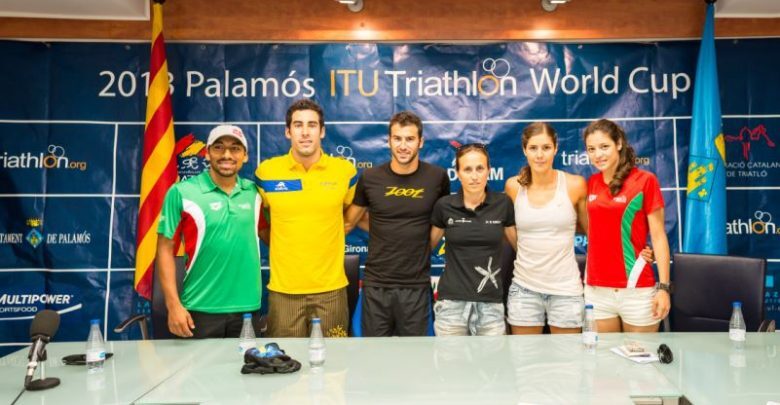 Yesterday afternoon, the City Council of Palamós hosted the press conference to present the Palamós Triathlon World Cup 2013. The event has been attended by six of the triathletes who will take the exit next Sunday. Among them we have had the Spanish Ainhoa ​​Murua, Carolina Routier, Cesc Godoy, Vicente Hernández and the Mexicans Claudia Rivas y Crisanto Grajales.
The santacrucero Vicente Hernández, who arrives at the appointment in an optimal state of shape and after getting the bronze in the past European Championship Sub23 held in Holten (Holland), commented that he faces the challenge with "much enthusiasm and desire to do his best, even though I don't have much experience in World Cup events. It is a good place to learn to measure myself with people and enjoy and score points. " Hernández has positively valued his season, highlighting that "this 2013 can be considered as one of my best seasons, at least in which I have been more regular. It has been loaded with races, but I face them with enthusiasm and desire. I hope I can finish it just as well, since I like the heat. "
For its part, the Mexican Claudia Rivas Palamós arrives "very motivated, especially because we have seen the circuit and it is very beautiful, since it is always nice to compete on the beach. I liked that the route has ups and downs and combines a bit of everything ".
While the Barcelona Cesc Godoyrecent Spain champion de Sprint triathlon in Altafulla, has acknowledged that this Sunday will try to "give the maximum, and make a Top-10 It would be a good goal. The season has started with many competitions for me, but when you run at home you always give it your all. An athlete has few opportunities to do such high-level races at home and this year I have already had two. Having family and friends close helps you give 120%, and maybe that's why I've had such good results. "
"This circuit is very good for me, because I like to run more in urban centers. This is how we bring the triathlon closer to more and more people, to which to see the test from the door of the house helps to give it more importance. We are growing a lot, but we are still a small sport. The celebration of this World Cup is important for triathletes and for the region. "
The Mexican Crisanto Grajales, who has already been champion of a World Cup, has acknowledged that Sunday will be "a rather difficult challenge. The weather conditions will make it a very demanding and high-level race, so you will have to leave concentrated to give the maximum. Humidity conditions are similar to some parts of Mexico, such as where I live, Veracruz. You will have to hydrate well and look for the maximum possible points to climb the ranking. I have already tried the beach water and it is very tasty ".
Ainhoa ​​Murua, seventh in the last Olympic Games in London 2012, faces this World Cup "with great desire, although I have spent a difficult winter with several injuries. I have been told that the circuit is technical and hard, so the weather will make it even harder. This heat and humidity are even better for me. I hope that on Sunday there is a lot of public cheering, since being an urban circuit helps to make it happen. "
The triathlete of Banyoles Carolina Routier, has commented that it is "in a good state of shape, since I come to play two European Championships, and I have had no stops or discomfort. Palamós is a special place for me because since I was little I came to the beach and this Sunday my family can also come. My career approach will be based on swimming, where I will try to do my best and ride a bike to see what happens. In the running race I am improving a lot, but there are also good athletes. "
Fetri