Triathlon day presentation - women's triathlon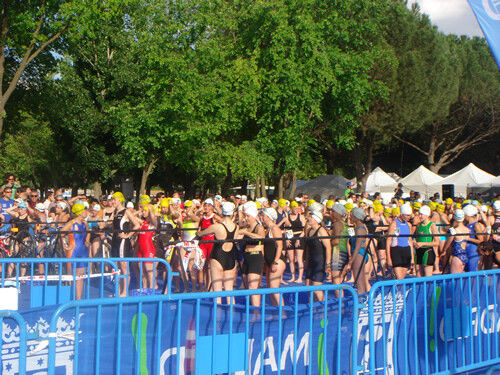 One more year the fourth edition of the triathlon day is celebrated in the capital of Spain together with the women's triathlon.
The Madrid and Spanish Triathlon Federation collaborate in this pioneering project in Madrid with the organizer Laetus Sport, with the primary objective of being a promotion project to publicize triathlon to the general public and specifically to women.
Another year the women's triathlon will have the red card project, which is an initiative against gender violence in our country.
Madrid, where almost 500 women and more than 1000 athletes participated last year, puts the finishing touch to this edition that has had Gran Canaria, San Sebastián, Mérida, Gijón and Valencia as venues.
The day of the triathlon and the women's triathlon will take place on October 1, 2011 at the Madrid country house. This is a popular 100% test, which was born so that on that day EVERYONE could do a «triathlon», since it consists of different distances totally affordable for those who want to start in this sport and even dare with a "bigger" triathlon. The organization's motto is «That nobody is left without doing triathlon".
The next September 27 at 12:30 in the morning the official presentation of the event will be held at the General Directorate of sports of the Community of Madrid, where Mr. Javier Hernández, Vice Minister of Culture and Sports of the Community of Madrid, Carlota Castrejana, Director General of Sports of the Community of Madrid, Marisol Casado president of the ITU (International Triathlon Federation) and member of the Olympic Committee, Lorenzo Bernal, president of the Madrid Triathlon Federation, Enrique quesada, Director of Competitions from the ITU and Ana Burgos, International Triathlete.
To request your invitation to the presentation write an email with your name and surname to: [Email protected]