Triathlon News
Official presentation of the Polar athletes: Javier Gómez Noya, Clàudia Galicia and Chema Martínez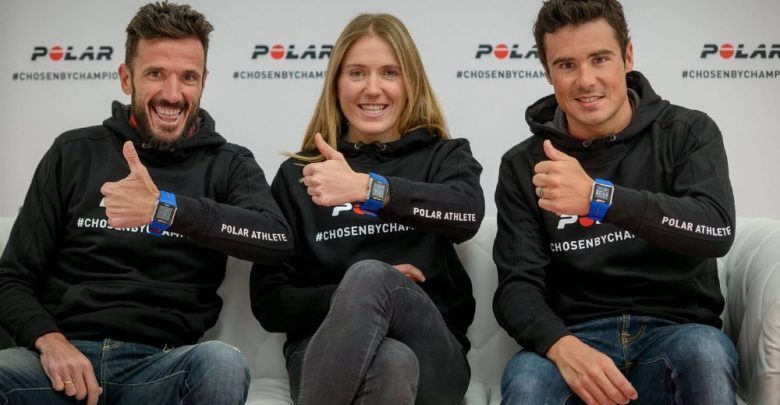 Polar has officially presented his Polar Athletes: Javier Gómez Noya, Clàudia Galicia and Chema Martínez
Today, 16 of March of 2016 took place in Madrid the official presentation of three champions, three Polar Athletes. The event has been hosted by the main national and sector media, where Triathlon News was located, who were eager to learn about the new challenges of athletes sponsored by the leading brand in heart rate monitors and GPS training.
As described by the Director General of Polar Ibérica, Manu Lafora, "The three Polar Athletes share our values ​​of discipline, perseverance and responsibility, the harmony with them is total. For us it is a pride that athletes like Javi, Clàudia and Chema put their trust in our devices to maximize their performance. Our ambition is to ensure that our products are also used by all sports fans. Exercise moves the world and we encourage people to move."
Polar offers the best training tools to meet the needs of the most demanding athletes, helping them achieve their next goals.
It is worth highlighting the interesting words of Javier Gómez Noya which highlights that "The Polar V800 has everything I need to train and compete. It is suitable for any sport since it integrates from heart rate, GPS, altimeter, etc. It is information that allows me to control all the necessary data to see everything we work and are very useful for me and my coach. "
Furthermore, Clàudia Galicia has emphasized commenting that "I am proud to be able to practice both disciplines (mountain biking and mountain skiing) even knowing that it is not easy to do two different sports, but I feel fit and able to achieve good results in both disciplines".
And finally, the Polar Athlete newly incorporated into the family of athletes, Chema Martínez, commented that "The next challenge I face is the Sables Marathon where I will be able to continue enjoying my passion for sport and start a new stage to learn new things. "
Thanks to the event organized by Polar, all attendees have enjoyed a dynamic and enriching day where we could learn how Javier Gómez Noya faces the challenge of the Rio Olympics, discover the new equipment of the Polar-Trek Team of Clàudia Galicia for this season and Finally, discover the particular challenge Cope in Polar Gran Fondo la Mussara de Chema Martínez.