Official presentation of Triathlon Club TriMadrid the next November 26 in Tres Cantos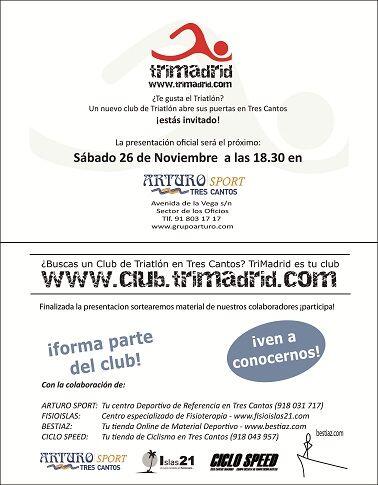 The TriMadrid Triathlon Club
will have its training headquarters in the town of Tres Cantos

On November 26 at 18.30:XNUMX p.m. at the Arturo Sport sports facilities located on Avenida de la Vega s / n (Offices Sector) in Tres Cantos, the official presentation of the TriMadrid Triathlon Club will be held.
TriMadrid was born with the aim of shaping the initiative of creating a "2.0" Triathlon Club, where athletes have a meeting point, through its website, to know first-hand all the information about competitions, regulations, etc, in addition to having a forum in which the triathlete can consult their doubts 24 hours a day, make "Meetings", plan competitions….
Thanks to the great potential of athletes in the Sierra de Madrid area, as well as the excellent location and facilities of the city of Tres Cantos, it has been decided to establish a physical training venue in this town.
The reference point will be Arturo Sport (gym and swimming training) and the public facilities of the La Luz Sports Center (athletics track). With different membership options, for those who also want to be part of this club and are interested in training jointly, TriMadrid will open its training groups next January by the hand of Ángel Moncada, Senior Triathlon coach.
Once the presentation is over, you can visit the Arturo Sport facilities, as well as participate in the raffle of sports equipment provided by our collaborators: Bestiaz, FisioIslas and CicloSpeed.
Don't forget, on Saturday 26 you have an appointment.
For more information: www.club.trimadrid.com
Or send us a mail