Official presentation of the first edition of WILD WOLF Triathlon Series by POLAR: A CORUÑA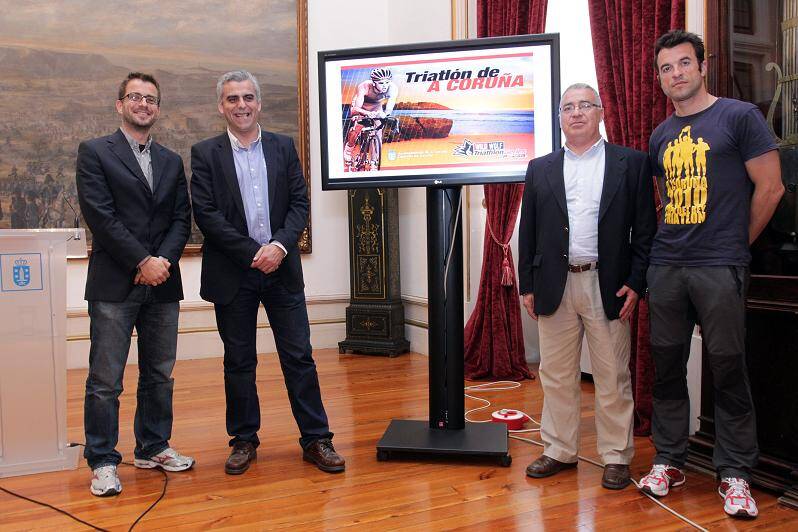 The area around Riazor beach will host the weekend of September 8 and 9, one of the 5 tests of WILD WOLF Triathlon Series by POLAR, the most important triathlon circuit in Spain that, with 8.500 participants, starts with the aim of becoming an international benchmark.
In the official presentation held today, WILD WOLF Triathlon Series by POLAR, has shown itself as a unique appointment of the national triathlon, which only in the Galician town starts with a forecast of 600 participants in its first edition and with the clear will to become one of the obligatory appointments of the national calendar.
The test will also count with top-level international athletes but is also aimed at the popular athlete, Since the orientation of the A Coruña Triathlon, as well as the organizer, is to make participation accessible to everyone who wants to practice this sport.
During the event attended by Francisco Mourelo, Sports Councilor of the city, accompanied by Luis Genero, organizer of the event, and its technical director, Víctor Martínez, Moruelo made the following statements to the press "We believe that there are sufficient reasons to come to compete in Galicia: our geographical location, the date, the good organization and the fact of being the birthplace of great national elite triathletes, as is the case of David Castro who is with us today ".
This test will be developed over the distance Sprint (750m swim - 20km bike - 5km run) and Olympic for the most daring (1500m - 40km - 10km). There will also be the possibility of participating in the modality relays with teams of 2 or 3 people. "We want to live a weekend tri-sports and that, in September, A Coruña becomes the pilgrimage of hundreds of people to enjoy the city, its beauty and its people, "Mourelo concluded.
WILD WOLF Triathon Series by POLAR, will give the "honk" of departure on June 16-17 in Madrid, to later travel to Castellón, Barcelona, ​​Andorra and ending the tour in A Coruña. A test that was born with the aim that no one is left without doing triathlon and that offers affordable distances for anyone who wants to practice this sport by offering "customized challenges"
For more information about the test and different venues go to: www.triathlonseries.org