Paralympic triathlon team presented for Tokyo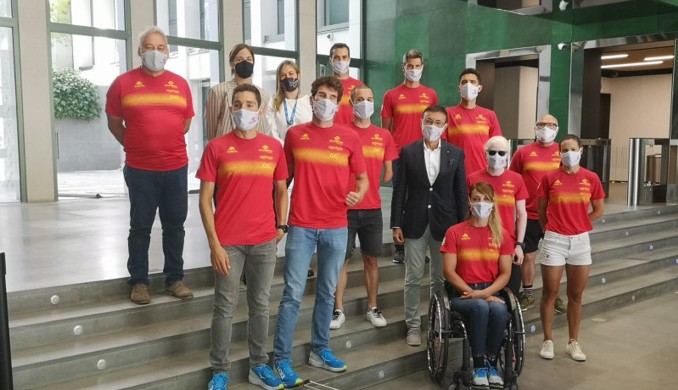 The Spanish Triathlon Federation has announced to the Paratriathletes who will compete in the different disciplines during the Paralympic Games of Tokyo 2020.
List of paratriathletes in Tokyo
The 'Paratriarmada' will be made up of the following athletes:
PTWC
PTS2
PTS4
Alejandro Sánchez Palomero
PTS5
PTVI
Susana Rodríguez and your guide Sara Loehr
Héctor Catalá and your guide Gustavo Rodríguez
José Luis García Serrano and your guide Pedro Andújar
This dozen athletes are going to the Paralympic Games with great enthusiasm for what it means to experience the greatest world event in sport, and with the highest aspirations to fight for the medals.
A high-level selection
The #Triarmada has an enviable track record full of successes Among which are several World Cups, World Paratriathlon Series Trials, Spanish Championships and even the success celebrated in Rio 2016 when Jairo Ruiz hung himself a historic bronze, the first in the history of paratriathlon.
August 28 and 29 the Olympic event
They all hope to put on a great performance in the different disciplines of the paratriathlon that will take place on August 28 and 29, a great event that will be a prelude to the Valencia European Championship that will take place days later and where everyone hopes to show off their medals and diplomas at this great sporting festival.
statements
During the act, Eva Moral, wheelchair triathlete, world champion and debutant in an Olympic Games, has expressed that, "We are going with a lot of emotion, we must try to enjoy the road and hopefully I can dedicate a medal or a good result to the people who have supported me.
The support of private companies is very important and, without them, we could not carry our sports career forward and we greatly appreciate it.".
For its part, Jairo Ruiz, medalist in Rio 2016, has valued the daily work, perseverance and discipline that a sport as complex as triathlon requires, and has recalled that "SANTALUCÍA bet on us and we have grown a lot.
Now we are a team twice as large as when we were in Rio de Janeiro and, in large part, thanks to SANTALUCÍA and other companies that believed in this project", He pointed out.