Presentation Championship Spain Duathlon Time Trial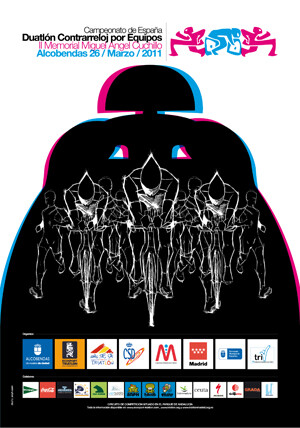 Last Friday, March 11, at 13.00:26 p.m., the official presentation of the Duathlon Team Time Trial was held, which this year will be held in the Madrid town of Alcobendas on March 2011, XNUMX.
The meeting was attended by the Ecosport Technical Director, Mr. Ángel Aguado, the President of the Spanish Triathlon Federation, Mr. José Hidalgo, the Mayor of Alcobendas, Mr. José García de Vinuesa, the Sports Councilor, Mr. Pablo Salazar and the President of the Madrid Triathlon Federation, Mr. Lorenzo Bernal and Mr. Felipe Gutiérrez, Director of Competitions of the Spanish Triathlon Federation, among others.
Ángel Aguado, technical director, presented the test that will consist of a first segment of 5 km of running, a second of 20 km of cycling on wide asphalt roads (two lanes for each direction) in perfect condition without technical difficulty and with some small unevenness, and the third part 2,5 km of foot race. An ideal circuit to get the most out of it. The test will begin at 9 a.m., ending at 20 p.m. according to the scheduled time.
With reference to the organization of the test, the "command unit" that will be inaugurated by the local police that day was highlighted, a vehicle that has the most advanced technology and special equipment that is capable of centralizing and managing all the operations of emergencies requiring long-term interventions. This unit offers the possibility of offering logistical support in the event of an emergency situation and has the capacity to coordinate the bodies and services that act, so that those responsible for management can make the necessary decisions.
In addition, the test will have two field hospitals and a nursery for children, all of them an added value for the triathletes participating in the Team Time Trial Duathlon, II Memorial Miguel Ángel Cuchillo.
José Hidalgo, president of the Spanish Triathlon Federation, highlighted the perfect "marriage" between Alcobendas, a city devoted to sport, the unconditional support of its Mayor Mr. José García de Vinuesa, and Ángel's enthusiasm, organizational capacity and commitment Aguado and the Ecosport Sports Group, to host an event of this caliber.
For his part, Mr. José García de Vinuesa, presented Alcobendas as a city linked to sport and wanted to thank all those who make it possible for the Spanish Time Trial Championship to be held in this town.
All the information about this test can be found at this link: