Preview to the Championship of Spain of Average distance in Vitoria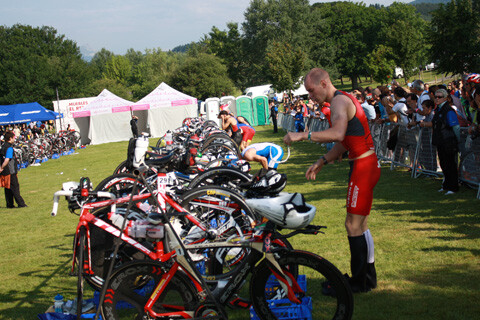 Vitoria, a city committed to triathlon and that thanks to its capacity to organize events of this caliber has been chosen by the ITU, International Triathlon Federation, to host the Long Distance Triathlon World Championship 2012, this weekend it will host one of the most anticipated events on the Spanish Calendar, the Spanish Medium Distance Championship.
On July 24 at 9 in the morning the first start will be given, the Men's Elite, at 9.05:XNUMX the Women's Elite Start, which will be followed by the outputs of the different categories. The swimming circuit will take place in the Ullibarri-Ganboa Reservoir, and then move on to the cycling segment that will be developed on a circuit designed to offer a spectacular environment to the triathlete surrounding the lake, with an impressive landscape that crosses towns in the area and is also Very safe for the realization of this type of circuits, it will give way to the running segment with hardly any notable unevenness, running through the vicinity of the Salburua Park, which have been declared of Community Interest by the European Habitat Directive.
The circuit has been designed so that both athletes and spectators can enjoy the spectacle of seeing a competition of this level.
Despite not being able to count on local favorites in this edition Eneko Llanos and Virginia Berasategui, we will be able to count on the presence of other great triathletes such as the current Spanish Long Distance Champion, Peru Alfaro (Kraff Atco San Sebastián) who also competed last year in the European Long Distance Championship in Vitoria, other favorites will be Miquel Blanchart (CN Sabadell) and Fernando Cuenllas (CNPra Triatló) third and ninth respectively in the Spanish Long Distance Championship 2010. Other triathletes to consider and with the possibility of entering the Top 10 of the event They are Iker Rozas, Jose Luis Cano, Ciro Tobar, Unai Yus, Alejandro Santamaría, Jose Manuel Tovar, among others
In the female category, Saleta Castro (Cidade de Lugo Fluvial), and Raquel Lombo (T. Santander), first and fourth respectively in the Spanish Long Distance Triathlon Championship, start among the favorites. Both will have to face Inmaculada Pereiro and Ana Casares who also starts with the possibility of making a podium in the test.
In addition, during the same weekend Vitoria will host the Spanish Age Group Championship, and the Paratriathlon and an Open test that is open to all federated triathletes who do not participate in Age Groups.
More information about the test and list of registrants in the following link: http://www.triatlon.org/competiciones_11/sites/triatlondo_vitoria/datos_prueba.asp