Women's Preview World Series Grand Final Beaugrand and Potter play it out in Pontevedra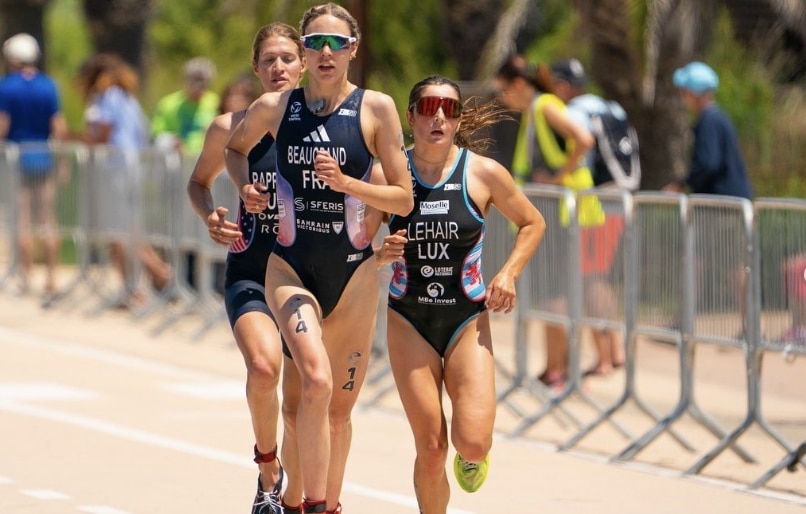 This year, a new athlete will be crowned World Champion in the Grand Final of the Triathlon World Series in Pontevedra.
The fight for the title has been intense since the start of the season in Abu Dhabi and has passed through various venues such as Yokohama, Cagliari, Montreal, Hamburg, Sunderland and the Test Event in Paris. Now, everything will be decided in Galician land.
Fight for the Title
Two athletes stand out in the fight for the world title: Cassandre Beaugrand from France and Beth Potter From great britain.
They both know that the title depends on winning one more gold medal in Spain. Potter has been especially strong this year, adding a third gold medal to his 2023 collection at the Paris Test Event.
Beaugrand, for his part, was lethal in Hamburg and will seek to do what is necessary in Pontevedra.
The difference in points between Beaugrand and Potter is very small, only 32.07 points, which makes the competition very close.
We will also have to take into account triathletes such as Emma lombi third in the ranking and 363 points behind Potter, Taylor Spivy, Summer Rappaport o Rosa María Tapia Vidal.
Jeanne Lehair has shown great performance and Sophie Coldwell She is the only woman, apart from the leaders, who has won this year.
Katie Zaferes y Gwen Jorgensen They are back on the circuit this year with very good results and will have to be taken into account for the race.
See the lens assembly tutorial current ranking of the 2023 World Series
| MARKET STALL | ATHLETE | COUNTRY | TASTING SCORES |
| --- | --- | --- | --- |
| 1 | Cassandre Beaugrand | FRA | 3341.45 |
| 2 | Beth Potter | GBR | 3309.38 |
| 3 | Emma lombi | FRA | 2946.16 |
| 4 | Taylor Spivey | USA | 2836.90 |
| 5 | Summer Rappaport | USA | 2357.47 |
The Spanish Among Spanish athletes, attention is focused on Miriam Casillas, Noelia Juan, Anna Godoy, Marta Pintanel y Sara Guerrero.
Although they may not be the favorites to take the world title, they have all shown solid performance throughout the season and could spring a surprise on home soil.
Without a doubt, the Grand Final in Pontevedra will be an opportunity for these Spanish athletes to show what they are made of and perhaps, who knows, achieve a performance that will go down in the history of Spanish triathlon.
The circuit
The circuit is Olympic distance, with 1500m of swimming, 8 laps of 5 km on a bicycle and 4 laps of 2.5 km on foot through the old city.
It is a type of circuit that Beaugrand and Potter have preferred this year, but everything can change with the unpredictable weather of Galicia and the pressure of the title at stake.
Schedules and Where to See It
live
Complete coverage of the event will be Triathlon Live.tv and for and RTVE (Women) from 16:30 CEST on Sunday, September 24.
The men's competition will be held a day earlier, on Saturday the 23rd, with the U23s at 14:20 p.m. and the elite at 17:20 p.m. You can follow live through RTVE Play (men)