What's different about the Montreal Triathlon World Series?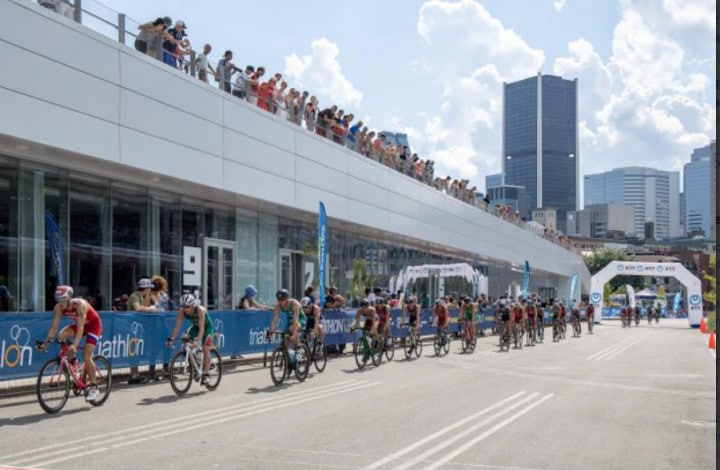 This next weekend the penultimate appointment of the Triathlon World Series in the city of Montreal.
This appointment comes after the competitions of the Olympic Games where Flora Duffy y Kristian Blummenfelt they took the gold medal and the British team won the opening round of the mixed relay triathlon in a few games.
What's different about WTS Montreal?
Unlike the rest of the world series that we have seen to date, the one in Montreal comes with changes in its format.
Specifically, it goes from having a sprint or Olympic test format to doing a competition in 2 days with qualifying tests, the so-called Eliminator, the final being held on Saturday 14.
The Eliminator is a very intense format that takes place over two days and on the super-sprint distance: 300 m of swimming, 7,2 km of cycling and 2 km of running.
On the first day, up to 60 athletes will participate in two qualifying rounds to earn their place in the final.
The top ten of each race will achieve it, along with ten more from the "repechage" races.
30 athletes will participate in the final, which will be 3 rounds of supersprint. In each test the last 10 will be eliminated until reaching the last round with the 10 finalists who will fight for victory in the test.
World Triathlon, will test this format in the WTS after success in other competitions and it may become a standard in the coming years.
On Sunday there will also be a test in the format of Triathlon by mixed relays.
Only 1 Spanish in the test
The competition will be marked by the absence of the entire triarmada that was at the Games, Javier Gómez Noya, Mario Mola, Fernando Alarza, Miriam Casillas y Anna Godoy.
It will only be in the competition, in the absence of confirmation from the departure list, Antonio Serrat
Nor will the Olympic champions, who will wait to compete in the Edmonton Grand Final.
Opening hours
The test will be played as follows, The time is the official in Spain is 5 hours more.
Friday 13 of August of 2021
11:30 am: WTCS Women - Qualifying Round 1 (30 athletes, top 10)
12h00 pm: WTCS Women - Qualifying Round 2 (30 athletes, top 10)
1h00 pm: WTCS Men - Qualification Round 1 (30 athletes, top 10)
1h30 pm: WTCS Men - Qualifying Round 2 (30 athletes, top 10)
2h30 pm: WTCS Women - Repechage (20 athletes, top 5)
3h00 pm: WTCS Men - Repechage (20 athletes, top 5)
Saturday August 14 2021
1h36 pm: WTCS Women - Final 1 (30 athletes)
2h16 pm: WTCS Women - Final 2 (20 games)
2h56 pm: WTCS Women - Final 3 (10 games)
4:06 pm: WTCS Men - Final 1 (30 games)
4:46 pm: WTCS Men - Final 2 (20 Athletes)
5:26 pm: WTCS Men - Final 3 (10 Athletes)
Sunday, August 15, 2021
3h06 pm: WTCS - Mixed Team Relay