La Quebrantahuesos and Treparriscos are canceled due to the heat wave
The organization has decided not to hold the tests due to the heat wave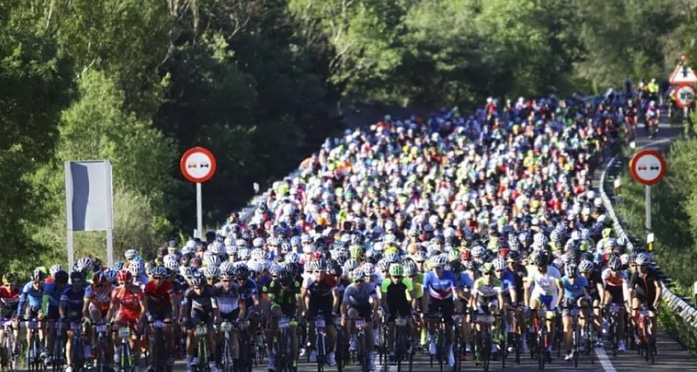 The organization of the international cycling tour The Bearded Vulture and Wallcreeper ha release this afternoon that the 2022 edition, scheduled for this Saturday, is suspended due to the heat wave and high temperatures.
The heat, which is marking this weekend in terms of sports events, with the cancellation of the event and the Rioja Triathlon,
The high temperatures that are going to be registered in the Aragonese Pyrenees in the next 72 hours have forced the organization, out of responsibility, to cancel the Bearded Vulture and Treparriscos tests.
This is the official statement:
"Due to the adverse weather conditions expected on the route of the Quebrantahuesos and Treparriscos marches for next Saturday, the organization, out of responsibility and following the recommendations and advice of the Spanish and French authorities, has decided to postpone the 2022 edition scheduled for this June 18.
We regret the inconvenience that this decision may cause to all those who are part of the Bearded Vulture. During the next few days, the organization will study the most suitable date this year for the celebration of the 31st edition and will report on the measures that will be taken in relation to the postponement.
During the week, the organization has worked closely with the main authorities and had planned different measures to deal with the consequences of the heat wave, but given the worsening of conditions observed in recent hours, it has decided to postpone the appointment .
Thank you for your understanding in these difficult times.
The organization."
The Quebrantahuesos, 200 km long that crosses France- and the Treparriscos, 100 km long and does not cross the border- have the participation of hundreds of cyclists every year.
The CCEdelweiss and Octagon, the organizers of the march, will inform in the next few days about the new date of celebration of the march, and the possibilities of returning the registration or moving them to another year.
It must be remembered that the QH was not held in 2020 due to the pandemic, and that in 2021 it had to be moved to September for the same reason.