Raña, from the Olympic challenge to the Ironman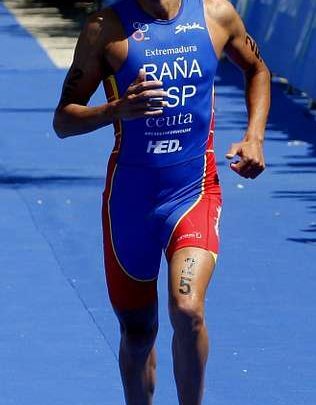 The Ordense, who has the ticket to London on track, meditates then going to the mythical distance
Curious and free, Iván Raña prepares a challenge and meditates on the next one. Having just finished the season, they are on track to qualify for their fourth Games. As he looks ahead to London 2012, the former triathlon world champion is already developing a project for the day after. He is considering leaving the Olympic distance (1.500 meters swimming, 40 kilometers cycling and 10 running), to prepare for the Ironman, the great resistance challenge in the three disciplines, over 3,86 kilometers in the water, 180 on wheels and the final marathon of 42,2 on foot.
the balance
«This year I started to notice myself as a triathlete»
Raña recovered in 2011 the best sensations as a triathlete. Four times top-10 in the World Cup, and tenth in the World Cup final, in Beijing, he feels fine again. «After a year in cycling, 2010 was tough. I was running for 20 minutes and my knees, tendons and back were bursting. This year I began to notice myself as a triathlete again. It is not about being fifth or tenth, but about seeing yourself with the best after 14 years in the elite, "he reflects now that he opens a few days off at home before starting training in January.
SHORT TERM
Two ways to get the place for the Games
Javier Gómez Noya has secured his Olympic place, and in June the other two to which Spain is entitled right now will be distributed. One is awarded by computing the results of the great events of 2010, 2011 and 212, and another according to the marks of the previous twelve months. "If I perform in the first tests, and I have a good European Championship [in Eilat (Israel) on April 21], I will already secure the ticket, and if not, I will have to achieve some more results," explains Raña, who will debut in Australia in March.
THE FOURTH GAMES
«I was able to run with the legends of the past and with the phenomena of now»
Fifth at Sydney 2000 and Beijing 2008, and twenty-third at Athens 2004, Raña has faced giants from several different generations. «It motivates me to measure myself against very strong kids, as I did with myths like Hamish Carter, Chris McCormack or Simon Lessing 14 years ago. I was able to run with the legends of the past and with the phenomena of now, "he remarks.
THE EVOLUTION OF THE TRIATHLON
Complete athletes
Raña's trajectory allows him to see the evolution of triathlon in Olympic distance. «Before, there used to be a lot of rebounds from other sports, people who swam very well, but who didn't wiggle while running. They would have nothing to do today. Now a stability prevails in the three sports. The good guys are more triathletes, that's why the socks are better ", he reflects.
the future
"Plan A means to continue in Olympic distance, and plan B, to prepare the Ironman"
The London Games will mark the future of Raña. "Plan A supposes to continue in Olympic distance, and plan B, to prepare the Ironman". Unless he achieved a magnificent result in the Games, he will go for the long distance. "Right now I have the illusion of a youth to arrive in London. But I have already lived it all in the Olympic distance and I would like to end up in Hawaii.
attractive
A new discipline, ideal for a veteran
Raña, who will be 33 years old at the Games, is capable of preparing for the Ironman. «It is an interesting option due to age. You have to dedicate more hours, but in a calmer way. I love to train; I am going to enjoy. It would take several races to shoot me, but it calls me. I would finish my career fully motivated ».
sponsorships and awards
"A giant market"
The federative triathlon limits sponsorships, but the Ironman, a private event, does not put barriers to business. «In Olympic distance, either you are in the top ten, or it is difficult to make money. The Ironman sells its image better, and there is a giant market ", considers Raña. The Ordense was fifth in the X-Terra, a mountain triathlon that also takes place in Hawaii, where he finished fifth, ahead of former cyclist Lance Armstrong. «There I already made contacts in case I finish in the Ironman. People know me and know that I went through cycling ", says Raña, who gives an example:"Eneko Llanos it was smart. He saw that in Olympic distance he was already regular, and in the long run he is one of the good ones. He has already won the Arizona Ironman and has a name.
Source: lavozdegalicia.es