Raña, Pérez, Rodríguez and Damlaimcourt look for an Olympic square in Madrid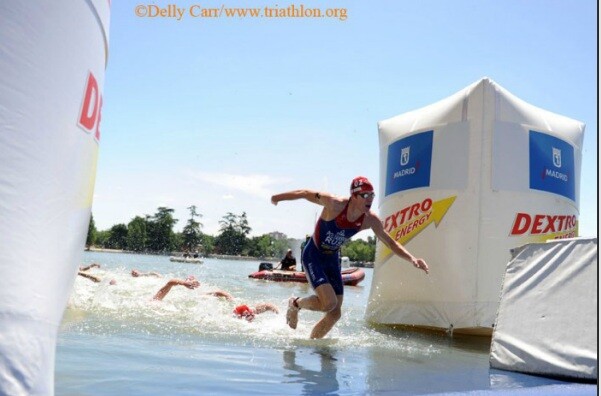 José Miguel Pérez and Iván Raña will fight this weekend at the Casa de Campo in Madrid for the last Spanish ticket to the London 2012 Olympic Games in the 2012 Triathlon World Series, which will be the last scoring event of the season, while Zuriñe Rodríguez and Marina Damlaimcourt will look for the necessary points to be at the event this summer.
So far, Javier Gómez Noya, Mario Mola and Ainhoa ​​Murua are the three Spaniards who have achieved the Olympic place. In the men's category, Spain still has a place for London, which will be for Pérez or Raña, who will have to spend the rest in the capital. In women, Rodríguez and Damlaimcourt will have to add the remaining points to confirm that they will be the other two women who complete the female representation.
The Galician Javi Gómez Noya, two-time world champion and third last year, will be the great absentee from the Madrid event due to a flu process. Nor will the British Alistair Brownlee -world champion in 2009-, who has not yet been able to overcome the Achilles heel injury and who has preferred not to participate in order to recover in time to be in full condition at the Olympic Games.
The one who will be will be his brother Jonathan Brownlee, who arrives at the appointment after having imposed himself in San Diego. The Englishman was already second last year after Alistair in a podium that Noya completed. The French David Hauss and Laurent Vidal will be his main rivals for victory, along with the Swiss Sven Riederer and the Russian Alexander Bryukhankov.
Mario Mola from the Balearic Islands is emerging as the main asset of the Spanish representation in the race on Sunday -13:56 hours- after having finished fourth in both Mooloolaba and San Diego. In addition to Josemi Pérez from Cuenca and Iván Raña from Galicia, Fernando Alarza from Toledo will also try to play a good role in Madrid.
In addition, the British William Clarke and Tim Don will fight for the last place of their country for the Games, while Brendan Sexton will have to work hard to be able to represent Australia in London.
In the women's event, which will be held on Saturday from 17:46 p.m., the main attraction is the return of New Zealand's Andrea Hewitt after being absent in San Diego. The Gipuzkoan Ainhoa ​​Murua will try to prevent the victory of the oceanic, something for which the Swiss Nicola Spirig, Ainhoa ​​Murua and the French Emmie Charayron, silver in the Madrid event in 2009 and bronze in 2011, will also fight.
With Murua's ticket secured, Zuriñe Rodríguez from Biscay and Marina Damlaimcourt from Madrid will look for her passport to London. Marta Jiménez from Madrid, Carolina Routier from Catalonia and Anna Godoy will also be present at the test
EFE