Ranking Challenge World Bonus 2021
Patrick Lange and Anne Haug win Challenge Family's 2021 Ranking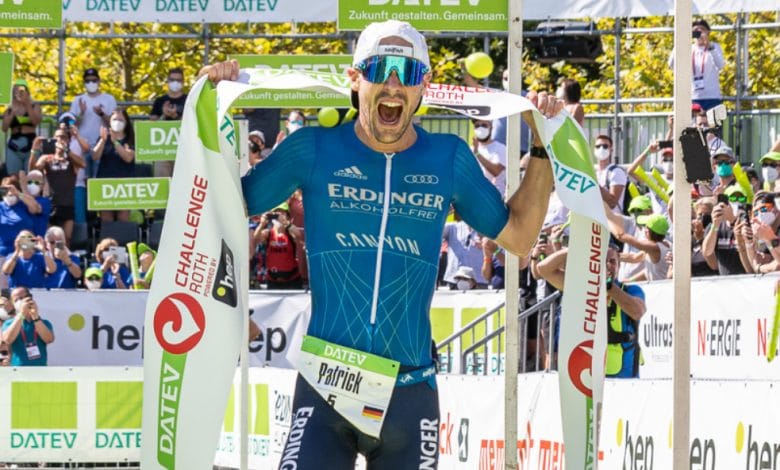 Patrick Lange y Anne Haug have been the winners of the Challenge World Bonus 2021.
This ranking offers athletes the opportunity to compete for a $ 150.000 bonus that will be awarded at the end of the season.
The winner of the Ranking will take $ 30.000, the second $ 20.000 and he will win $ 14.000 the fourth $ 8.000, the fifth $ 3.000 and so on
The final classification will be decided by a point system based on the 6 best positions obtained in the various races in which it takes part.
Men's Classification Challenge Ranking 2021
| | | |
| --- | --- | --- |
| Rank | Athlete | TOTAL POINTS |
| 1 | Patrick Lange | 1.325 |
| 2 | Magnus ditlev | 1.080 |
| 3 | Frederic Funk | 1.050 |
| 4 | Pablo Dapena | 1.000 |
| 5 | Braden Currie | 950 |
| 5 | Thomas Steger | 950 |
| 7 | Nils Frommhold | 900 |
| 7 | Lionel Sanders | 900 |
| 9 | Jan Frodeno | 750 |
| 9 | Kristian Hogenhaug | 750 |
| 11 | Jesper svennson | 600 |
| 12 | Felix hentschel | 525 |
| 13 | Gustav Iden | 500 |
| 13 | Florian Angert | 500 |
| 13 | Matt Hanson | 500 |
| 16 | Collin Chartier | 450 |
| 17 | Max neumann | 400 |
| 17 | Reinaldo Colucci | 400 |
| 19 | Ruedi Wild | 390 |
| 19 | Ben Kanute | 390 |
| 21 | Rudy von berg | 375 |
| 22 | Philip bahlke | 350 |
| 22 | Sebastian Kienle | 350 |
| 24 | Andreas Dreitz | 310 |
| 25 | Franz Loeschke | 305 |
| 26 | Sam Appleton | 300 |
| 26 | George Goodwin | 300 |
| 26 | Boris Stein | 300 |
| 26 | Evert Scheltinga | 300 |
| 30 | Jack moody | 250 |
| 30 | Kyle Smith | 250 |
| 30 | Javier Gomez | 250 |
| 30 | James Teagle | 250 |
| 30 | Roberto Sanchez Mantecon | 250 |
| 30 | Daniel Baekkegard | 250 |
| 30 | Thor Bendix Madsen | 250 |
| 30 | Kristian Blummenfelt | 250 |
| 38 | Andrew Starykowicz | 240 |
| 38 | Albert Morino Molins | 240 |
| 40 | Steve mckenna | 225 |
| 41 | Joe Skipper | 200 |
| 41 | Matt Burton | 200 |
| 41 | Josh amburger | 200 |
| 41 | Jan Stratman | 200 |
| 41 | Matt Trautman | 200 |
| 41 | Jorik van Egdom | 200 |
| 47 | robbie deckard | 190 |
| 47 | Tobias Dahl Thomsen. | 190 |
| 49 | Dominik Sowieja | 175 |
| 49 | Mattia Cecarelli | 175 |
| 51 | Justin metzler | 150 |
| 51 | Jason West | 150 |
Women's Classification Challenge 2021 Ranking
| | | |
| --- | --- | --- |
| Rank | Athlete | TOTAL POINTS |
| 1 | Anne Haug | 1.925 |
| 2 | Sarissa de vries | 1.530 |
| 3 | Lucy Hall | 1.450 |
| 4 | Nicola Spirig | 1.020 |
| 5 | Laura Siddall | 950 |
| 6 | Paula Findlay | 750 |
| 7 | Lucy Charles-Barclay | 650 |
| 8 | Fenella Langridge | 645 |
| 9 | Sara Perez Sala | 615 |
| 10 | Lisa Norden | 610 |
| 11 | Ellie Salthouse | 500 |
| 11 | Manon Genet | 500 |
| 13 | Hannah wells | 450 |
| 14 | Elisabetta curridorri | 440 |
| 15 | Sarah Crowley | 415 |
| 16 | Michelle Vesterby | 400 |
| 16 | Imogen Simmonds | 400 |
| 16 | Jackie Hering | 400 |
| 19 | Leanne fanoy | 375 |
| 20 | Grace thek | 350 |
| 20 | Chloe lane | 350 |
| 20 | Els Visser | 350 |
| 20 | Jodie Stimpson | 350 |
| 24 | Marta Bernardi | 340 |
| 25 | Rebecca Clarke | 300 |
| 25 | Laura Philipp | 300 |
| 25 | Haley Chura | 300 |
| 25 | Emma Bilham | 300 |
| 25 | India Lee | 300 |
| 30 | Lena Berlinger | 275 |
| 31 | Amelia Watkinson | 270 |
| 32 | Radka Kahlefeldt | 250 |
| 32 | Meredith Kessler | 250 |
| 32 | Romina balena | 250 |
| 32 | Emma Pallant Browne | 250 |
| 32 | Lisa gerss | 250 |
| 37 | Alexandra Jedrzejewska | 225 |
| 38 | Daniela Ryf | 200 |
| 38 | Penny slater | 200 |
| 38 | Annie kelly | 200 |
| 38 | Holly Lawrence | 200 |
| 38 | Carolin Lehrieder | 200 |
| 38 | julie aspelsetten | 200 |
| 44 | Giorgia Priarone | 190 |
| 44 | Saleta Castro | 190 |
| 46 | Skye Moench | 175 |
| 46 | Hanna maksimova | 175 |
| 48 | Carrie Lester | 150 |
| 48 | Maeve Kennedy Birdsall | 150 |
| 48 | Palmira Alvarez | 150 |
| 48 | Maja Stage Nielsen | 150 |
| 48 | Shiva leisner | 150 |
Official ranking
https://www.challenge-family.com/world-bonus/
Circuit tests 2021
Middle distance
(Daytona, Wanaka, Salou, Shepparton, Gran Canaria, Cancun, Taiwan, Riccione, Bled, Wuhan, St. Pölten, Collins Cup, Geraardsbergen, Herning, Kaiserwinkl-Walchsee, Turku, Davos, Gunsan, Budva, Peguera-Mallorca, Cabo City, Vietnam, Miami, Florianopolis, Vansbro, Gdansk
Long distance
Roth, Almere-Amsterdam, Anhui