Raul Amatriain and Nuria Rodríguez Duathlon Navarro Champions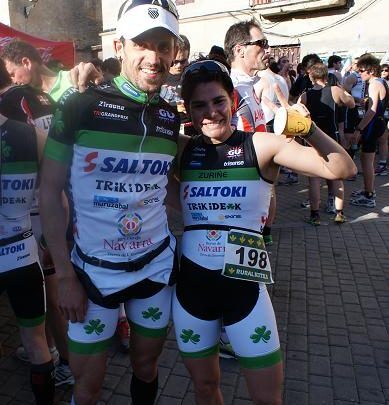 Last Saturday, the Navarre duathlon championship in Sprint distance was celebrated in the Navarrese town of Alsasua, where Raúl Amatriain and Nuria Rodríguez were proclaimed Champions in their respective categories.
The exit was given to the 4 in the afternoon with a sunny day and spring temperature, from the first meter Raul Amatriain put a rhythm that allowed him to go alone, chased by 4 duatletas of which 3 (beñat, Arnaiz, Pablo drag and Ignacio Muller) were from trikideak jump.
In these positions arrived at the T1 starting the cycling sector in which they had to climb the port of Altamira, during cycling Beñat hunts Raul and Muller is left alone in pursuit of duo headboard. In the T2 Raul leaves first to run accompanied by beñat and later muller and Pablo drag.
Raul Amatriain arrives alone at the finish line proclaiming winner of the event and champion Navarro, second beñat Arnaiz and third Ignacio muller, with just a few seconds on Pablo dragged that was about to give chase.
Saltoki trikideak also won in the men's team standings.
In the women's test from the start Nerea gamba took the head closely followed by the navarre of trickski hopper Nuria Rodriguez, took the t1 with just 20 seconds of difference that nuria neutralized in the cycling sector, lowering the two to run together and starring in a beautiful duel until the final stretch of the finish line where the Basque Nerea gamba won the triathlon skydiving ducat Nuria Rodríguez, who was proclaimed champion Navarra duathlon Sprint.
Thanks to the race of the other two members of the saltoki trikideak team, they also won the first place in women's teams.