Raúl Lecuona and Lydia Dant, champions of the XXXVI edition of the Club La Santa Volcano Triathlon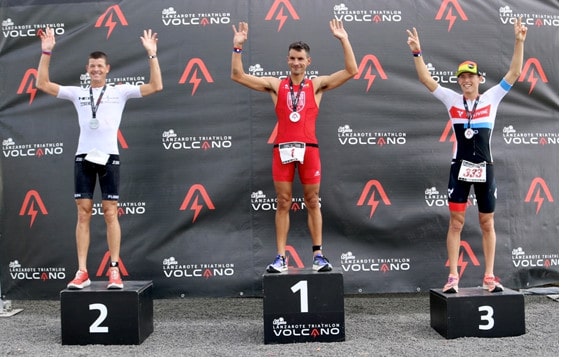 The test has brought together 456 professional and amateur athletes who have faced the longest running triathlon in Spain.
The Spanish and the British are the big winners of this edition with times of 01:57:36 and 02:09:10, respectively.
At 10:00 in the morning the competition started on a day that was going to be marked by a strong wind that put the triathletes to the test.
In swimming, the Spaniards Raúl Lecuona (19:01) and Adrián Coello (19:19) came out of the Club La Santa lagoon in the first and second position, respectively.
Already on the bicycle, with 40 kilometers ahead and some of the most emblematic landscapes of the island, Raúl Lecuona endured the type after the pursuit of Nicholas Ward and Oscar Hobson, who accelerated their pedaling. Lecuona finished as the leader in this segment with Ward very close to him.
To end this Volcano Triathlon, the runners faced a 10-kilometer race on foot that would end at the Club La Santa stadium. Lecuona would not miss the leadership status and finished in first position, followed by the Spanish Nicholas Ward and the French Oscar Hobson.
In the women's category, Amber Rombaut began dominating and led the test in the water with a time of 21:00 p.m., followed by the British Kate Curran, just 53 seconds.
On the bike, Lydia Dant overtook her rivals and remained in the lead, leading the category at a very high pace and finishing the stage with great force.
With a time of 37:12 in the foot race, the British triathlete was proclaimed the winner, followed by Curran and Zaira Lorenzo.
As for the relay race, the winning team was the French Team, with 20:38 in the swimming segment, 57:00 on the bike and 42:13 in the running race.
The test is completed with the Canarian Cadet Triathlon Championship -for young people born in 2006 and 2007- and Youth -for those born in 2004 and 2005-. The obstacles for the participants are defined: 250 meters of swimming, six kilometers by bicycle and a kilometer and a half on foot.
As has already happened in all the events organized this year by Club La Santa, the strict protocol devised by the organization and approved by the competent authorities helped the test to develop within absolute normality.
The return of this historic race after the forced stoppage due to the pandemic, with great recognition by all participants, has mobilized more than 1.000 people. All this contributes to keeping Lanzarote in a privileged position on the international sports scene.
The mythical Volcano Triathlon test will open registrations on November 16 for the next edition, which will be held on February 26, 2022.