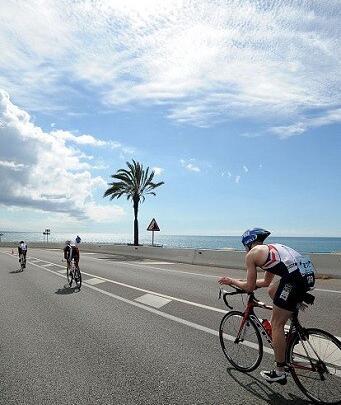 Challenge Barcelona consolidates and celebrates its fifth anniversary in this international event, which in addition this 2013 will be the Spanish Long Distance Triathlon Championship 2013
The next October 06 the town of Calella (Barcelona) will once again become the focus of the international triathlon, being this day the chosen one for the celebration of CHALLENGE BARCELONA, which this year in addition to celebrating its fifth anniversary, will also be Headquarters ofl Spanish Long Distance Triathlon Championship
+ A total of 1.350 triathletes have confirmed their presence in this test that will have an 71% of athletes from other countries. An appointment that will be represented by 35 nationalities to which we must add that of the host country, Spain, with an 29% of participating triathletes.
As expected, Challenge Barcelona He has managed to attract some of the most relevant Long Distance triathletes for another year. The Austrian Andréj Vistica, who will win the European Championship of this modality this year in the event held in Vichy Challenge (France) last August, will be the clear candidate for the podium, a name that will stand out among others recognized as the Austrian Georg Swoboda, runner-up of Challenge 2012 and the German Markus Fachbach, fourth classified in the renowned appointment of CHALLENGE Roth, among others.
In the women's category the triathlete Eva Wutti She presents herself not only as the clear candidate for this title but also with great possibilities of snatching the minimum mark achieved on this trip to the British Lucy Gossage in the 2012 (08: 58: 43) who holds this recognition today. The Czech Lucie Zelenková-Reed and the German Annette Finger, will be other outstanding triathletes.
As far as the host country is concerned, the favorites on the podium that in turn will come out in search of achieving the title of Spanish Champion of this modality will be Richard Calle, Jose Luis Cano y Aimar Aguirresarobe, being in feminine category the great favorite the current champion of Spain of this modality, Gurutze Frades.
CHALLENGE BARCELONA It will have more than 1.000 triathletes participating in Age Groups, as well as other triathletes that will depart with their own name.
One year more personal challenges will come in search of fulfilling a dream, as is the case of the team led by Dr. Justin Roberts of the University of Hertfordshire (UK) professor and researcher specializing in nutrition and performance physiology that will feature 80 participating triathletes that will form a team on which the one who is making a study to assess individual, physical and psychological performance, when the body is subjected to extreme resistance.
Other notable challenges will be the one of Victor Tastende "From a tetraplegia to Challenge Barcelona"Or of Ramón ArroyoAffected Multiple sclerosis, which starts with the objective of demonstrating and making known through its challenge "IM4EM" how sport can help improve the quality of life of people who live with this disease every day, as well as the general population, as are the hundreds of names and surnames that will take the starting line next October 6 in Calella in order to meet their own individual challenge.
More information AND PROGRAM: www.challenge-barcelona.es