Do you know the regulation that you have to follow the accompanying car of a group of cyclists?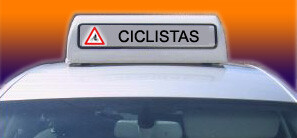 The regulation of the DGT requires cars that accompany cyclists to meet a series of requirements
The signaling of the car is mandatory from the 23 of July of 2010 and indicates the next circulation of cyclists to the rest of the circulation.
Regulations «V-22 CYCLING ACCOMPANIMENT WARNING POSTER:
1 Indicates the upcoming circulation of cyclists.
2 Vehicles must be carried at all times when they only circulate in function and service of accompaniment to the circulation of cyclists.
3 It will be placed in the upper part of the accompanying vehicle, vertically and held in such a way as to avoid the risk of falling. It will be installed as an additional supplementary element (movable).
4 This signal will have the signal P-22 inscribed on the left and the word CYCLISTS on the right, its dimensions, color, content and technical characteristics having to be adjusted to what is indicated below:
State official newsletter:
http://www.boe.es/boe/dias/2010/01/23/pdfs/BOE-A-2010-1011.pdf