Spanish Representation in the European Youth Championship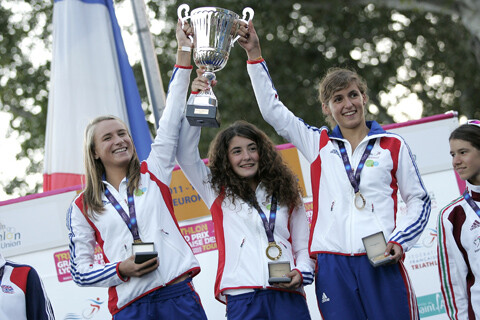 This weekend the European Championship for teams in the Youth category was held in the French town of Tours, where the French team, together with the animation of their local public, has managed to take first place on the Podium
France with a total time of 1:36:14 was joined on the podium by Great Britain, 1:36:56, and Hungary, 1:36:54. The Spanish team, led by Camila Alonso, Diana Coton and Laura Gómez, reached the finish line in 11th position
In a circuit that consisted of 350 meters of swimming, 9 km in the cycling segment and 2,5 kilometers of running, in which each component of the group had to complete a circuit and give the relief to their partner, the French teams, English and Hungarian have made a difference from the first moment.
Guerard, the last relay of the French team, led in the cycling segment, which before reaching T2 was already one minute behind the followers, an advantage that she managed to keep practically intact until her arrival at the finish line, thus proclaiming herself European Champion Triathlon by Relay in the Youth Female category.
Hungary did not want to make it easy for England, both teams fought until the last moment for the second position of the podium, leading it in the last meters before reaching the goal of the English team and thus leaving, by only a second difference, the third podium box to the Hungarian team.
TOP 10 in Female Youth Category
1 FRANCE FRA 01: 36: 14
2 GREAT BRITAIN GBR 01: 36: 53
3 HUNGARY HUN 01: 36: 54
4 ITALY ITA 01: 37: 54
5 PORTUGAL FOR 01: 38: 15
6 SWITZERLAND SUI 01: 40: 00
7 BELGIUM BEL 01: 40: 02
8 SLOVENIA SLO 01: 41: 02
9 RUSSIA RUS 01: 41: 27
10 AUSTRIA AUT 01: 42: 37
11 SPAIN ESP 01: 43: 50
All results:
http://www.triathlon.org/results/results/2011_tours_etu_youth_triathlon_european_championships/6993/