Results of the Spanish in the IRONMAN Hawaii 2022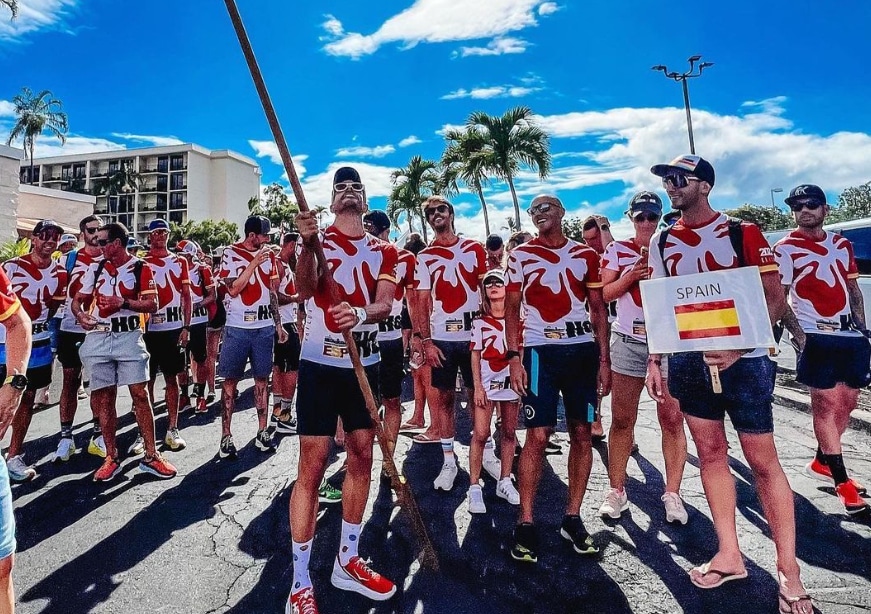 On the 6th and 8th of October, on the Island of Hawaii, the IRONMAN World Championship with the IM Kona 2022 dispute.
Participated in the test hundreds of Spaniards where Gurutze Frades She has been our only representative in the elite category, finishing in a great 15th position.
In age groups we have had 3 top 10 in the various groups with Gonzalo Fuentes (30-34), Iván Álvarez (45-49) y Fernando Ayello (45-49).
In this article we want to pay homage to our Triarmada in Kona by publishing all their results.
Spaniards in the IROMAN Hawaii 2022
This is the list of Spaniards in Kona 2022 ordered by position
| Job title | Name | Time | age group | Sex |
| --- | --- | --- | --- | --- |
| 1 | Daniel Arron | 10:45:07 | PC | M |
| 5 | Gonzalo Fuentes | 08:47:12 | 30-34 | M |
| 7 | Ivan alvarez gomez | 09:12:18 | 45-49 | M |
| 10 | Fernando Ayello | 09:21:03 | 45-49 | M |
| 16 | Mikel Mugica Bikuna | 08:55:59 | 30-34 | M |
| 16 | German Alcala Ordonez | 09:11:35 | 40-44 | M |
| 20 | Pelayo Menendez | 08:59:02 | 30-34 | M |
| 20 | Miguel Fernandez Minino | 09:35:42 | 45-49 | M |
| 23 | Vincent Pastor Sanchis | 09:14:23 | 35-39 | M |
| 24 | Juan Garcia | 10:35:29 | 55-59 | M |
| 27 | Eduardo Calderay Saavedra | 09:07:23 | 30-34 | M |
| 27 | Josep Maria Castello Balague | 09:41:29 | 45-49 | M |
| 27 | Fernando Lopez-Navarro | 10:11:27 | 50-54 | M |
| 29 | David Mendes Market | 09:09:13 | 30-34 | M |
| 29 | Jose Maria Jimenez del Cano | 09:28:44 | 25-29 | M |
| 30 | John Ochoa | 09:17:59 | 35-39 | M |
| 30 | Fernando Barahona de Andrés | 10:12:06 | 50-54 | M |
| 31 | Arnaitz Burgoa | 09:43:39 | 45-49 | M |
| 33 | Raphael Madrid Almena | 09:19:19 | 40-44 | M |
| 34 | Isabel Gomez-Fargas | 11:01:47 | 30-34 | F |
| 39 | Ignatius Chico | 10:43:43 | 18-24 | M |
| 39 | Ignacio Herrero Martin Berrocal | 09:16:21 | 30-34 | M |
| 40 | Mario Villar-Sanz | 10:44:47 | 18-24 | M |
| 43 | Alex Matesanz Saved | 09:43:14 | 25-29 | M |
| 45 | Javier Lopez Valenciano | 09:24:08 | 40-44 | M |
| 54 | Rocio Rodriguez Vallejo placeholder image | 11:17:04 | 35-39 | F |
| 55 | Marta Burgess Ros | 11:19:17 | 40-44 | F |
| 55 | Jesus Aureo Martinez Rubio | 12:14:11 | 60-64 | M |
| 56 | Jordi Molins Romero | 10:29:18 | 50-54 | M |
| 62 | Luis Miguel Ruiz-Perez | 09:34:53 | 40-44 | M |
| 63 | Imanol Recalde Esnoz | 09:58:08 | 25-29 | M |
| 64 | louis happy | 09:35:39 | 40-44 | M |
| 66 | Didac Domingo Carrascosa | 09:36:04 | 40-44 | M |
| 66 | Luis Barbudo Herrera | 09:58:14 | 45-49 | M |
| 68 | Jose Miguel Vela Pulido | 09:28:28 | 30-34 | M |
| 70 | Sergio Rubio Garrido | 09:30:43 | 30-34 | M |
| 70 | Joseph Arana | 09:38:43 | 40-44 | M |
| 71 | carolina lance | 13:11:19 | 40-44 | F |
| 75 | Jorge Wood Falcon | 09:32:25 | 30-34 | M |
| 75 | Louis Vega Romero | 09:40:21 | 40-44 | M |
| 78 | Pablo Marcos Pazos | 09:32:52 | 30-34 | M |
| 81 | Aitzol Arregi | 10:38:47 | 50-54 | M |
| 84 | andrea hom diaz | 11:59:30 | 30-34 | F |
| 84 | Marco Antonio Santana Perera | 10:03:31 | 45-49 | M |
| 87 | Bartolome Lopera Ramirez | 10:41:54 | 50-54 | M |
| 87 | Barto Lopera Ramirez | 10:41:00 | 50-54 | M |
| 90 | Tamara Vazquez Miguel | 12:13:05 | 30-34 | F |
| 90 | David Sanchez Calixto | 09:38:05 | 30-34 | M |
| 90 | Carlos Molera Busoms | 10:41:29 | 50-54 | M |
| 91 | David dams | 10:42:33 | 50-54 | M |
| 102 | David Herrera | 09:49:21 | 40-44 | M |
| 106 | Jordi Zabaleta Fasco | 13:22:18 | 60-64 | M |
| 109 | Jose Arranz | 09:52:31 | 40-44 | M |
| 120 | Cesar Borges Alvarez | 10:14:54 | 45-49 | M |
| 124 | Jose Ramon Lake Cives | 10:16:07 | 45-49 | M |
| 126 | Ruben Aragón Gutierrez | 09:47:31 | 35-39 | M |
| 129 | Juan Miguel Moreno Rivert | 10:17:17 | 45-49 | M |
| 131 | julian sanchez | 13:59:27 | 60-64 | M |
| 133 | Andres Gomez Junquera | 09:57:09 | 40-44 | M |
| 135 | Eva Elvira Arias | 13:27:02 | 35-39 | F |
| 138 | Sergio Nephew Sierra | 09:58:03 | 40-44 | M |
| 142 | Jose Maria Camacho Fernandez placeholder image | 10:20:06 | 45-49 | M |
| 143 | Alvaro Navalpotro Rodriguez | 11:15:27 | 25-29 | M |
| 144 | Angel Vidal Boldú | 11:00:00 | 50-54 | M |
| 155 | Juan Damascene Llorca Barbera | 10:02:30 | 40-44 | M |
| 156 | Cirer Ensenat Bartomeu Francesc | 09:55:40 | 35-39 | M |
| 162 | Monica Falgueras-Velazquez | 12:58:03 | 40-44 | F |
| 165 | David Exposito Munoz | 11:06:30 | 50-54 | M |
| 167 | Antonio Perez Comas | 10:04:29 | 40-44 | M |
| 169 | Javier Jesus Embid Roman | 10:04:52 | 40-44 | M |
| 173 | Jose Fernandez Maestre | 10:11:04 | 30-34 | M |
| 175 | Alfonso Monclús | 10:25:13 | 45-49 | M |
| 176 | Jorge Gonzalez-Alvarez | 10:06:55 | 40-44 | M |
| 189 | Xavier Valley | 10:17:44 | 30-34 | M |
| 193 | Jacob Ferrer Tejera | 10:04:25 | 35-39 | M |
| 195 | Jaime Abalos-Garcia | 10:29:14 | 45-49 | M |
| 196 | Francisco Javier Hernandez Alonso | 11:15:50 | 50-54 | M |
| 205 | Juan Guerrero Ochoa | 10:14:41 | 40-44 | M |
| 205 | Francis Farinas | 11:21:03 | 50-54 | M |
| 210 | Vincent Palones Llopis | 10:15:10 | 40-44 | M |
| 210 | Carlos Molina | 12:21:41 | 55-59 | M |
| 217 | Joan Basseda Peradalta | 10:29:26 | 30-34 | M |
| 218 | Diego Infante | 10:31:23 | 30-34 | M |
| 219 | Xabier Tijero | 10:31:43 | 30-34 | M |
| 223 | Francisco Javier Heras-Martin | 10:32:52 | 30-34 | M |
| 225 | Miguel Barrero Durán | 10:36:16 | 45-49 | M |
| 229 | Octavio Conte Martinez | 10:14:56 | 35-39 | M |
| 234 | Miguel Angel Lobato Sotillo | 11:26:58 | 50-54 | M |
| 237 | Ricardo Ruiz | 12:39:46 | 55-59 | M |
| 241 | Carlos Vives Gaseni | 10:23:18 | 40-44 | M |
| 244 | Manuel cabrera | 12:46:07 | 55-59 | M |
| 248 | German Garrote Borrull | 10:43:01 | 45-49 | M |
| 249 | Jon Elosegui | 11:30:34 | 50-54 | M |
| 251 | Luis Miguel Gomez de Andrés | 12:55:56 | 55-59 | M |
| 252 | Mark Perez Vazquez | 10:46:04 | 30-34 | M |
| 253 | Jacinto Manuel Fernandez Rojas | 10:44:28 | 45-49 | M |
| 254 | Borja Plaza Medrano | 10:46:35 | 30-34 | M |
| 254 | Ivan Diaz Chacón | 10:25:24 | 40-44 | M |
| 262 | Xavier Serrano | 11:35:50 | 50-54 | M |
| 265 | Fco Javier Corrales Diaz | 11:36:21 | 50-54 | M |
| 270 | Luis Herrero Alvarez | 10:48:57 | 45-49 | M |
| 279 | david gas panisello | 10:50:46 | 45-49 | M |
| 284 | Greg Sainz Pardo | 10:31:31 | 40-44 | M |
| 286 | Marcos Bragado Meana | 10:52:29 | 45-49 | M |
| 290 | Ner Albiol Bernal | 10:33:15 | 40-44 | M |
| 292 | Julio Alvarez Aristú | 11:45:33 | 50-54 | M |
| 297 | Antonio Gomez Gonzalez placeholder image | 11:46:39 | 50-54 | M |
| 303 | Robert Rasal Cabrero | 11:47:54 | 50-54 | M |
| 303 | Rasal Rasal Cabreto | 11:47:54 | 50-54 | M |
| 315 | Leopold Lopez | 10:59:54 | 45-49 | M |
| 316 | Javier Cano | 10:49:08 | 35-39 | M |
| 324 | Miguel Cabrera Fdez | 11:55:17 | 50-54 | M |
| 331 | Rafa Garcia-Arenas | 11:05:04 | 45-49 | M |
| 333 | Eduard Sadurni de la Torre | 11:05:46 | 45-49 | M |
| 335 | Ricardo Rey Martinez placeholder image | 11:06:30 | 45-49 | M |
| 342 | Eugene Royals | 11:09:50 | 45-49 | M |
| 348 | Ernesto Elorduy Lopez de Lacalle | 10:51:24 | 40-44 | M |
| 354 | Alvaro Martin Hernandez | 10:52:49 | 40-44 | M |
| 357 | Joshua Diaz Diez | 11:14:48 | 45-49 | M |
| 364 | Eusebio Paradinas | 12:16:07 | 50-54 | M |
| 370 | Borja Ballarin Gonzalez | 10:59:30 | 40-44 | M |
| 375 | Urtzi Barandiarán Aguirre | 11:00:05 | 40-44 | M |
| 385 | Manuel Alcázar Mateos | 12:26:56 | 50-54 | M |
| 386 | Marc Lloret Cabot | 11:59:23 | 35-39 | M |
| 387 | Arnau Lloret Cabot | 12:00:38 | 35-39 | M |
| 400 | Antonio Jose Perez Narciso | 11:30:55 | 45-49 | M |
| 408 | Joan Salvador Escala Arnau | 12:40:56 | 50-54 | M |
| 409 | Paco González Marcos | 11:33:54 | 45-49 | M |
| 411 | Rafael Angel Carralero Garcia | 11:34:28 | 45-49 | M |
| 411 | Juan Jose Martin Mendez | 12:43:04 | 50-54 | M |
| 419 | Antonio Marquez Luque | 11:38:53 | 45-49 | M |
| 425 | Roberto Garcia | 11:41:15 | 45-49 | M |
| 426 | Jorge Camacho-Fernandez | 11:41:49 | 45-49 | M |
| 431 | Antonio Jose Adell Reverter | 11:44:41 | 45-49 | M |
| 437 | Noel Zafra Raya | 11:33:44 | 40-44 | M |
| 443 | Ricardo Aguilar Award | 11:52:55 | 45-49 | M |
| 444 | Josep Esteve | 11:36:42 | 40-44 | M |
| 445 | Jaime Aranda Martin | 11:53:32 | 45-49 | M |
| 450 | Richard Ledain Santiago | 11:39:39 | 40-44 | M |
| 450 | Javier Muela Herrera | 11:57:25 | 45-49 | M |
| 457 | Fran Cuevas Egea | 12:01:51 | 45-49 | M |
| 465 | Diego Eugenio Rosique Moya | 12:05:44 | 45-49 | M |
| 470 | Igor Labaka Lizarazu | 12:16:32 | 45-49 | M |
| 473 | Peter Echevarria | 11:50:22 | 40-44 | M |
| 476 | Raul Lopez-Thick | 11:54:09 | 40-44 | M |
| 496 | Big Albert | 13:53:53 | 50-54 | M |
| 534 | Jorge Urrutia | 13:56:50 | 40-44 | M |
| 570 | Edu Domenech | 16:26:55 | 50-54 | M |
* If there is any error in the classifications please, contact with us to fix it