Anna Noguera and Robert Brundish win the 5th edition of the Nutrisport Half Triathlon Sevilla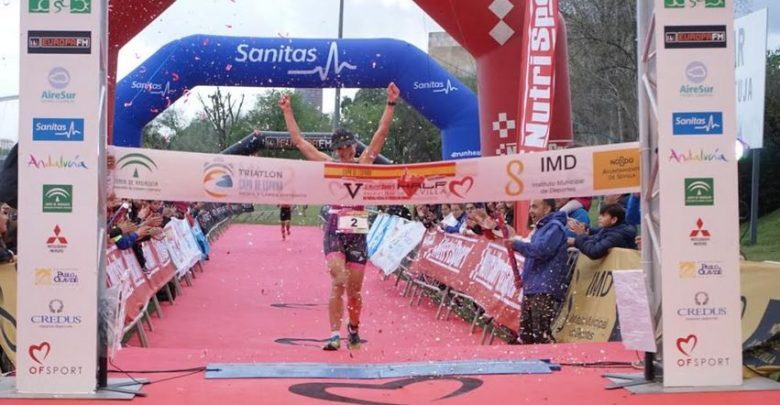 {wbamp-meta name = »image» url = »images / stories / news_08 / anna-noguera-gana-half-triatlon-sevilla.JPG» width = »300" height = »150"}
800 athletes met in the first of the venues of the Copa de España de Media Distancia
Under variable weather conditions left by sun, clouds, wind, and even a few drops of water, the 5th Edition of the Nutrisport Half Triatlón Sevilla, first of the venues of the Spanish Cup of Middle Distance Triathlon circuit in an excellent atmosphere that reigned from the early afternoon.
In this scenario the British athlete triumphed Robert Brundish, who completed the test in a final time of 4 hours 12 minutes and 44 seconds. The second classified and champion of this first round of the Spanish Cup was the estradense Cristobal Dios who entered the finish line in a final time of 4 hours 14 minutes and 16 seconds. The third place was for the Madrid César Pereira with a record of 4 hours 15 minutes and 50 seconds. The fourth position of the general was for the Galician Iñaki Pena-Manso who stopped the clock in a final time of 4 hours 16 minutes and 4 seconds thus completing the men's podium of the Spanish Cup.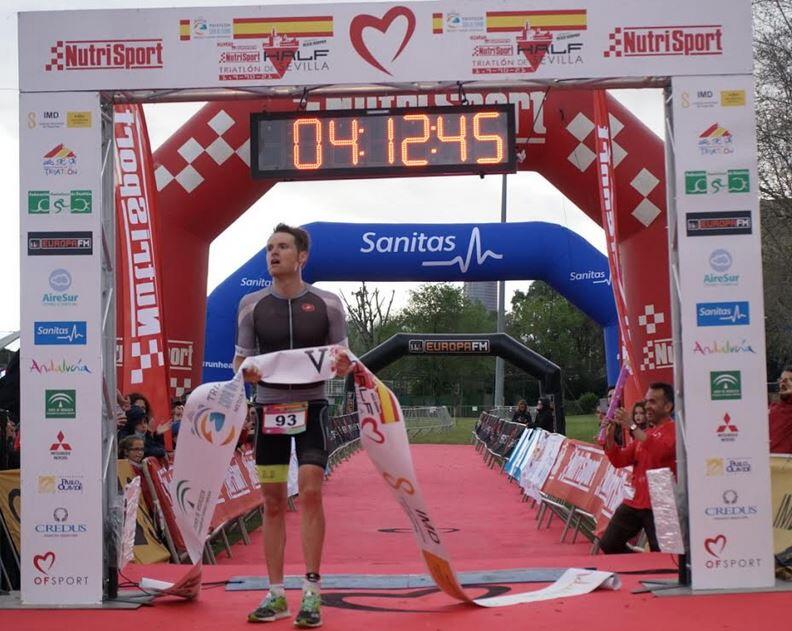 Pereira led a good part of the race and after the first sectors that outscored 9 minutes to their pursuers. The Spaniard nevertheless paid the effort in the race on foot and was overtaken by Brundish and Cristobal Dios.
"I enjoyed the test from start to finish, I loved the race, the routes and the heat of the people, if above I could get on the podium, I can not ask for more"Commented Cristobal Dios, winner of this first test of the Spanish Cup.
In the female category won Anna Noguera who dominated the test with solvency with a final mark of 4 hours 38 minutes and 2 seconds. Second classified was the local athlete, Maria Pujol 16 minutes and 48 seconds from the winner and third was Ana Caleya with a final mark of 5 hours 5 minutes and 40 seconds. Noguera sentenced the race with a spectacular cycling sector that also marked the best record of the final half marathon.
In short, a spectacular race that has been lived this afternoon in the Seville capital where the strong point was the delivery of a design finisher jersey exclusive of the test to each participant of Torré Sport Wear, and that the next 29 of April will once again host another historic event such as the XXII Sanitas Triathlon in Seville.
The Half Triathlon of Seville is organized by OF SPORT, in coordination with the Municipal Sports Institute of the Seville City Council and the Andalusian Triathlon Federation. Sponsor Nutrisport and Europa FM.
With the collaboration of the municipalities of La Algaba, La Rinconada, Salteras, Olivares, Gerena and Guillena. Mall Airesur, Coca Cola, Andalusia is Sport, Sanitas, Mitshubishi Motors, Pablo Olavide University, Alamillo Park, Gym and Clinic Credus, Torre Sport Wear and Hotel Barceló Renacimiento.
More information in the official web : www.triatlondesevilla.com