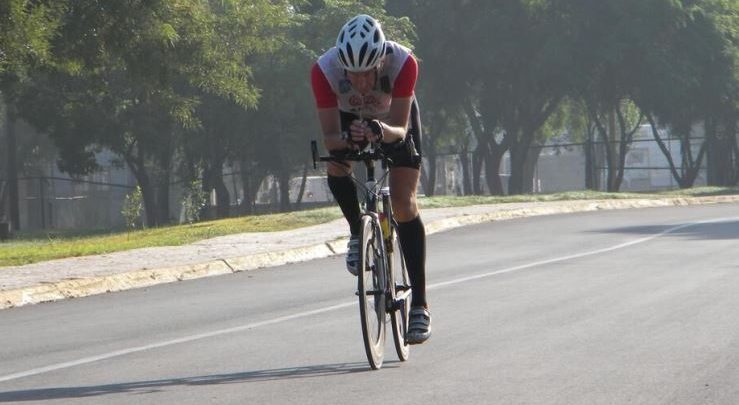 {wbamp-meta name = »image» url = »/ images / stories / news_07 / roberto-lendaro-decaironman-bicycle.JPG» width = »300 ″ height =» 150 ″}
Roberto Lendaro with 57 years to his second decaironman
From triatlónnoticias.com we wanted to know in first person the history of Roberto Lendaro, athlete of 57 years with Italian origin who spends great seasons in Granada and Madrid, who today will take the start of his second Decaironman in León (Mexico)
What is a decaironman?
The decaironman is an ultradistance triathlon that is the sum of 10 distance races Ironman, that is, 3,8 km of swimming, 180 km of bike and 42,195 km running multiplied ... .by 10 ... that is to say a decaironman and
38 km of swimming
1.800km of bike
422,2 km of foot race
It can be done in two modalities: one in 10 days (a daily Ironman) or in a maximum of 14 days (making each continuous stretch is 38 km of continuous swim, 1800 of bike and 422 of running race.
"Triathlete of ultra-distance and also vegan"
"I knew triathlon a decade ago. My motivation was somewhat different from normal, after spending 40 days prostrate in a bed and a complicated back operation that left me with several sequels, I decided that I did not want to spend the rest of my life like this and I ventured to discover that this was the triathlon"
"Some friends commented to me and I started watching videos on the internet"
"And a few days later I was already enrolled in the Ironman in Frankfurt, my first triathlon. At that time I was already used to swimming, because I was doing it to strengthen my back and I started to take the bike, my first outing was 30 km. This was only the beginning, the following year he was already signed to the Lanzarote Ironman, followed by the Ultraman of Canada "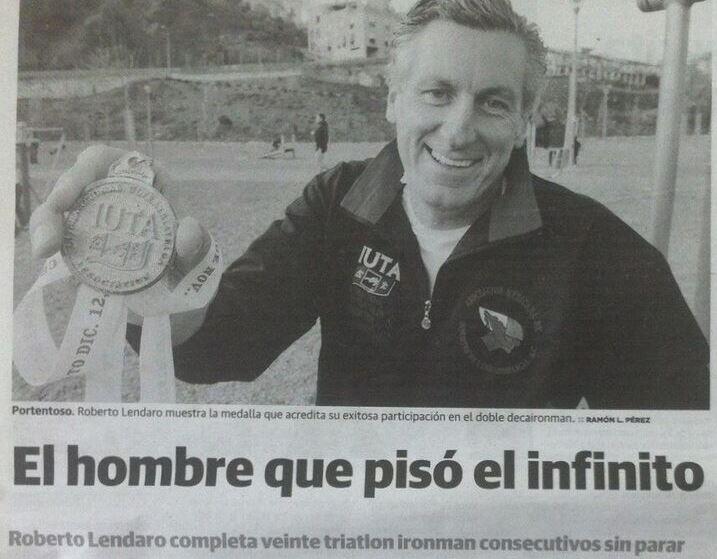 "The ultradistance tests are less crowded and more familiar"
"There are teams that help friends and family, it's not an impersonal race, in the end you end up knowing and sharing experiences with personal people, maybe this is one of the things that I love about ultradistance"
"After the Ultraman of Canada I discovered the Decaironman"
"There are two types, one is what they call 1 × 10 to do an Ironman a day and another format is to do all the swimming followed and then do the bike and go to the race on foot. The truth is that after doing the first 1 × 10 I told myself that I would not do more and soon after I was signed up to Double-Decaironman "
"And then Dobledecarionman? 76 km of swimming - 3.600 km on bike to finish with 844 km of running on foot "
"My friend Vicenzo Catalano pointed out to me, he's already done near 250 Ironman. Days before my first DOBLEDECAIRONMAN another good friend passed away, and in front of the grave I promised him I would. To date only 10 people in the world have managed to finish a competition of this distance, and I am the oldest (laughs) very soon I will fulfill the 58 years "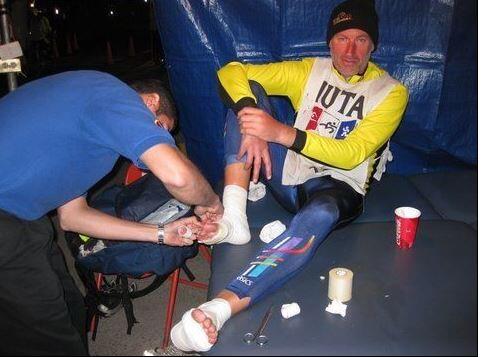 "This October you will make a Decaironman, but what is the difference between decarionman or 1 × 10?"
It is better when you do an Ironman a day, you use different muscle groups and this makes you more compensated, this is the main difference in how your body responds, of course the decaironman is harder on a physical level than the 1 × 10.
"Ultra-distance and vegan athlete, is that possible?"
"I do not eat any meat or fish. One of my secrets are the bars of my friend Iñigo Urrechu, famous chef and also Ironman. In the competition I also take almonds, raisins, dried apricots, bananas, orange juice ... after a race like quinoa, rice and beans, always trying to combine legumes and cereals, in addition to taking some vitamin C to fix the iron. For me this is enough, I do not take any supplements, I like to eat healthy. There are many athletes who are vegetarians and vegans, here in this competition if I do not get confused we are 4 that we have this feeding "
"Any career strategy?"
"I always control my limits, it is important not to exceed them, you have to go to the 60% -65% maximum capacity to not tire the body and this is also better to recover. Another way to manage the race is to think about short goals, not the long term or the end of the race, for example to think that I swim 7 km and then rest and as something to start over, so you add km little by little. There are incredible and well-trained bodies, but if the head does not work, they reach the end. It is important to know yourself well and know how to manage "

"From ultra distance, you learn"
"Above all, to know oneself, to be paused, to know how to overcome problems, to control your mood and pain. If you think you can, you know your body and you know how to manage it, in the end you get it "
From Triathlon News we want to wish good luck to our friend Roberto Lendaro, an example for many of perseverance and sacrifice, without a doubt.
More information about the race (circuits and departure list of the different modalities) http://www.decaultratri.co.nf/